WASHINGTON, DC – Bishop Glen John Provost celebrated Mass on Friday January 18, for the National March for Life pilgrims from the Diocese of Lake Charles at Our Lady of Victory Church.
The pilgrims, numbering 158, included Milissa Thibodeaux, director of the Office of Youth and Young Adult Ministry; Father Trey Ange and Father Jeffrey Starkovich; four members of the order of Religious Sisters of Mercy of Alma, Michigan and seminarians Sam Bond, Treville Belcher and Conner Chiasson.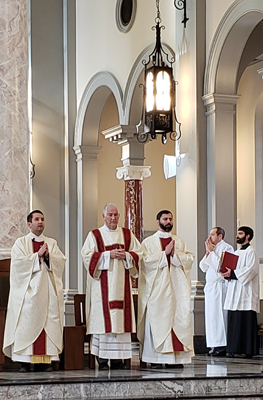 Three chartered buses left Lake Charles on Monday, February 14, for the more than 27 hour journey road trip, which included a stop in Knoxville, Tenn., where the pilgrims attended Mass at the Cathedral of the Most Sacred Heart. At left are Father Starkovich, the main celebrant and Father Ange, who concelebrated.In the center is Knoxville Deacon Walt Otey, one of three deacons assigned to the Cathedral
During their pilgrimage, the group was housed at Camp Wabanna in Edgewater, Maryland.
On Wednesday, they attended a morning liturgy at the Basilica of the Immaculate Conception in Washington. Following Mass, they visited the Holocaust Museum. This was followed by a Rosary Prayer Walk from the Holocaust Museum to the White House.
Nightly programs for each evening of the pilgrimage were held at Camp Wabanna.
The group attended the Geaux Forth Rally, made up of other groups of pilgrims from Louisiana, on Thursday, Jan. 17, at the Warner Theater.  Following lunch after the Geaux Forth Rally, pilgrims spent several hours at the National Shrine of Saint John Paul II.
Visits to the Lincoln, Vietnam, Korean, Dr. Martin Luther King and President Franklin Delano Roosevelt memorials were on Thursday afternoon. The Life is Very Good Rally was held Thursday evening on the campus of George Mason University in Fairfax, Virginia.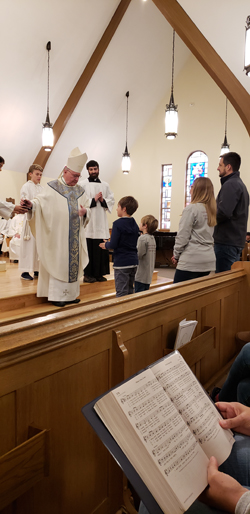 Following Friday's Mass with Bishop Provost, pilgrims participated in the National March for Life. Following the March, the pilgrims loaded the buses and began the journey back to Lake Charles traveling through the night, with a stop at the Shrine of the Most Blessed Sacrament in Hanceville, Alabama for Mass. Departure for home followed a tour of the Shrine and visit to the gift shop with with a late evening arrival in Lake Charles.