By Pamela Seal 
Diocese of Lake Charles 
Priests are known for feeding their flock spiritually, but over the past several months, their flock have had the opportunity to feed them. 
The immense destruction from Hurricane Laura in late August found numerous priests in the Diocese of Lake Charles homeless after the Category 4 storm left many rectories uninhabitable. While some priests relocated to other rectories, several found refuge at Saint Charles Center in Moss Bluff and have been there since early September. 
"At first we didn't have electricity; there was no way to cook as the kitchen is damaged, and we were operating off a generator," said Deacon Brian Soileau, who serves as director of the diocesan retreat facility. 
With limited resources and everyone left to fend for themselves, Soileau wanted to do whatever he could to help provide food for the clergy. 
"I started out by asking people through Facebook to donate canned goods and pots and pans so that even with limited use of generator power, the priests could at least heat up something in the microwave," Soileau said. 
From all the donations that poured in, Soileau recognized the generosity in a way that could benefit the clergy even more. 
"If people are going to be so generous this way, maybe they would cook meals for the priests on a daily basis," he thought. "After seeing them come back in the evening exhausted from dealing with damage at their church parishes, I wanted to provide the priests with more nourishment." 
Once again, Deacon Soileau turned to social media seeking volunteers. The response was enormous ranging from church groups to individual families who expressed a desire to help. It is even more amazing, he said, that some of the people providing the meals are dealing with their own storm damage yet are still willing to provide for the faithful shepherds. 
Two priests on the receiving end of the meals are Father Aubrey Guilbeau, pastor, and Father Andrew DeRouen, parochial vicar, both assigned to St. Theodore Catholic Church in Moss Bluff.  They see the meals as more than just satisfying a physical hunger. 
"I am very humbled to know that people place such an importance on taking care of us in this way," said Guilbeau, who also serves as Vicar for Clergy for the Diocese. "Having them use their time, effort and resources to provide meals for us despite their own struggles is very touching."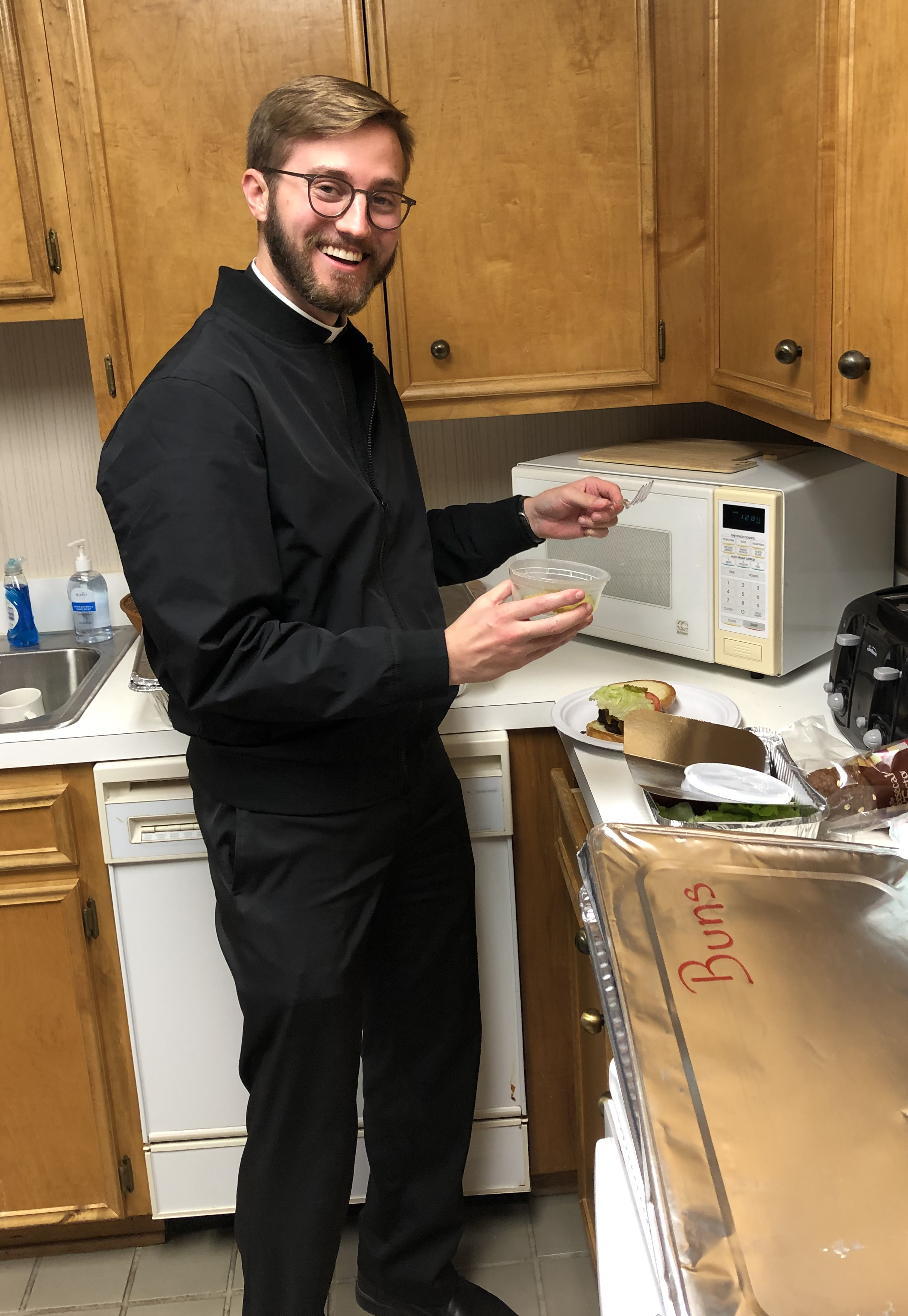 "For me, the meals are tangible evidence that people love their priests," said DeRouen, who was ordained in late June. "It is humbling to know as a new priest that I am cared for by others. People are being generous out of pure love and gratitude for us." 
During his 38 years of priesthood, Guilbeau has enjoyed many meals from homes across Southwest Louisiana but is still surprised at variations for the same recipe. 
"The exciting thing for me is seeing how cooks have different combinations of ingredients for a similar type of recipe," he said. "We have had jambalaya a few times, but each meal had its own taste, so it was like trying something new." Guilbeau was quick to add that all the meals have been delicious. 
On top of enjoying local cuisine, an added benefit for Father DeRouen has been spending time with his brother priests. 
 "The evening meals have offered an unforeseen blessing," he said. "Having lived in a rectory with only one other priest, and now, all of a sudden living with four other priests and a deacon, has provided a variety of conversation that is an unexpected richness added to each day." 
Father Guilbeau agrees that their fraternity together has been strengthened through the sharing of meals. 
"It is a time for us to share blessings and struggles of the day, and networking information of the day," said Guilbeau. "We also use the time to remember all those in our community who are going through the same thing we are in similar ways." 
In addition to delicious home-cooked meals being delivered, monetary donations as well as gift cards have also been a big help to the hurricane relief effort.  
"The people of this diocese are phenomenal," said Deacon Soileau. "If you say, 'Our priests need something, people are beating down the doors to come and give them whatever it is they need.' The response has really shown me just how much the people of the Diocese of Lake Charles love their priests." 
Note: If anyone would like to help provide meals for the priests, contact Deacon Brian Soileau, Director of Saint Charles Center, at 855-1232, or email This email address is being protected from spambots. You need JavaScript enabled to view it..