OBERLIN – An effort that began more than two years ago, an effort to bring the Saint Maximilian Kolbe Prison Ministry to the Diocese of Lake Charles, bore fruit recently with the first retreat for 65 men incarcerated at the Allen Parish Correctional Center.
Fifty-five volunteers, from church parishes in the Diocese of Lake Charles and the Diocese of Beaumont, staffed the retreat, which was "well received" according to Shelley Hacker, founding director of the Kolbe Prison Ministry in the diocese and a parishioner of Our Lady Queen of Heaven Catholic Church.
Monsignor Daniel Torres, pastor of Our Lady Queen of Heaven, served as the Spiritual Director of the retreat at Allen Correctional, which came there "with the blessing of our Bishop, The Most Reverend Glen John Provost," Msgr. Torres noted.
"I watched the prisoners come in on Thursday with a coldness and stoic expression in their demeanor," Msgr. Torres said. "On Sunday, there existed joy, hope, peace, and love.  A visible transformation was evident in the lives of these prisoners.They felt the Love of God penetrating their hardened hearts and experienced hope, peace, love, joy, and the tools on how to grow in their relationship with Jesus Christ," he continued. "They learned the importance of how to discern God's Will versus the will of society.  They understood they have to be men owning up to their choices and consequences.  It was a beautiful retreat for my soul as well as everyone present."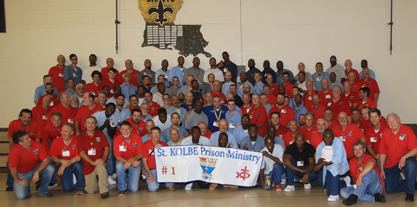 The gymnasium of the prison had been transformed into a makeshift retreat center for Mass, prayer, testimonies, adoration, and sharing meals, according to Msgr. Torres.
"The organization and execution of the four days was unbelievable," he said. "Shelley brought a genuine, humbling, hard-working spirit to help the prisoners to see they are loved by God.  The many volunteers worked well with the leadership of Shelley and others."
The ministry came to Southwest Louisiana from the Diocese of Beaumont through personal relationships between men involved in various church ministries, including the ACTS Ministry.
"It came to the Beaumont from St. Mary's Catholic Church in Fredericksburg, Texas," Hacker said.
 According to the website – kolbeprisonministries.com -  the ministry came about following numerous KAIROS weekends (an interdenominational Christian ministry whose programs are designed to be presented in correctional institutions). From interaction between an offender in the Texas prison, a volunteer, and the prison chaplain, ACTS Prison retreats began and were soon approved to be brought into any unit within the Texas Department of Criminal Justice (TDCJ) who may wish to have the retreat in their unit.
"The focus is prisons," Hacker said. "We have prisons in Oakdale (a federal facility) and in Oberlin, as well as the Calcasieu Parish Jail. We hope to expand into that facility and overall do two or three retreats a year and continue to expand, hopefully going statewide.
"That, though, will have to be a missioning effort among the bishops of the state and volunteers in each diocese who would like to take it up," Hacker noted. "We have already been invited back to Allen Correctional for a second retreat."
Hacker spoke of the men who worked diligently with him over the past two years to make that first retreat possible - David Hennigan, Bernard Marcantel, Estel Matt, Joe Hacker, Gerald Fruge, Randy Daigle, David Rogers,  Jason Touchet, Cecil Ashford , Bill Bourgeois, and Dewey Duhon. "They prayed and sacrificed their time to travel to Beaumont for St. Kolbe ministry.  Their efforts blossomed at Allen Correctional."