This email address is being protected from spambots. You need JavaScript enabled to view it.
Diocese of Lake Charles 
LAKE CHARLES — St. Louis Catholic High School celebrated the completion of its temporary modular campus with a ribbon cutting ceremony on October 26, with Bishop Glen John Provost in attendance for a special blessing. 
Extending his thanks to Principal Mia Touchet for her great leadership, the bishop praised the staff, teachers, and advisory board who played an essential role in making it possible for students to return to classes so quickly after back-to-back hurricanes. The first day of in-person classes was October 21 after COVID-19 and hurricane-related closures.
 "I am very impressed with the provisional accommodations here at the school," said Bishop Provost. "It only took a matter of 18 days, which is really very good considering the size of the facility and the number of people to accommodate." 
The temporary campus, under the direction of general contractor Russell J. Stutes Construction, includes 23 new portable buildings interconnected with concrete and over 16,000 square feet of decking, allowing for nearly 35 classrooms and 10 offices. 
Touchet also praised the SLCHS advisory board along with Matt Fontenot, Director of Advancement for St. Louis, who was on a plane the weekend after Hurricane Laura in search of the temporary buildings. 
"I can't tell you the excitement and relief it is to have students back in class," said Touchet. "The collaboration of effort from the City, the Diocese, the Chamber, from our insurance, to construction, to Entergy … It has truly been a team effort." 
Even though the facility is temporary while the main campus is undergoing extensive repairs from the devastation of Hurricanes Laura and Delta, Fontenot said the traffic flow of students functions great while still adhering to COVID-19 guidelines. 
"What happened in 18 days is pretty remarkable from a timeline standpoint," said Fontenot, "and, we are thrilled with the facility. Teachers have what they need, some have even more because the temporary classrooms are bigger than some of the rooms on the main campus." 
St. Louis is the first in the Diocese to be set up with a temporary learning facility following the storms and is one of four schools that sustained major damage. Kimberlee Gazzolo, Superintendent of Catholic Schools, is pleased with the results since other schools will be going through a similar process. 
"This was really important for the spirit of St. Louis as they move forward with rebuilding, and it also provides a model for the rest of our Catholic campuses that may have to go through this process as well," said Gazzolo. "We are really excited to have the students and teachers back on campus." 
In his closing comments, Bishop Provost said, "The Diocese sustained a lot of damage and there are other schools that require our attention, and church properties, too. We are anxious to see things continue in a positive direction here at St. Louis." 
Also in attendance for the ribbon cutting were the Rev. Nathan Long, Rector of St. Louis; the Rev. Ruben J. Buller, Vicar General and Chief of Recovery; Blaine Wyninger, Assistant Principal; Dinah Bradford, Advisory Board President; Stephanie Rodrigue, Director of Temporal Goods for the Diocese; John Ieyoub, Lake Charles City Council; SLCHS Advisory Council and Finance Council members, Visit Lake Charles, The Chamber of Commerce, and many more distinguished friends and guests.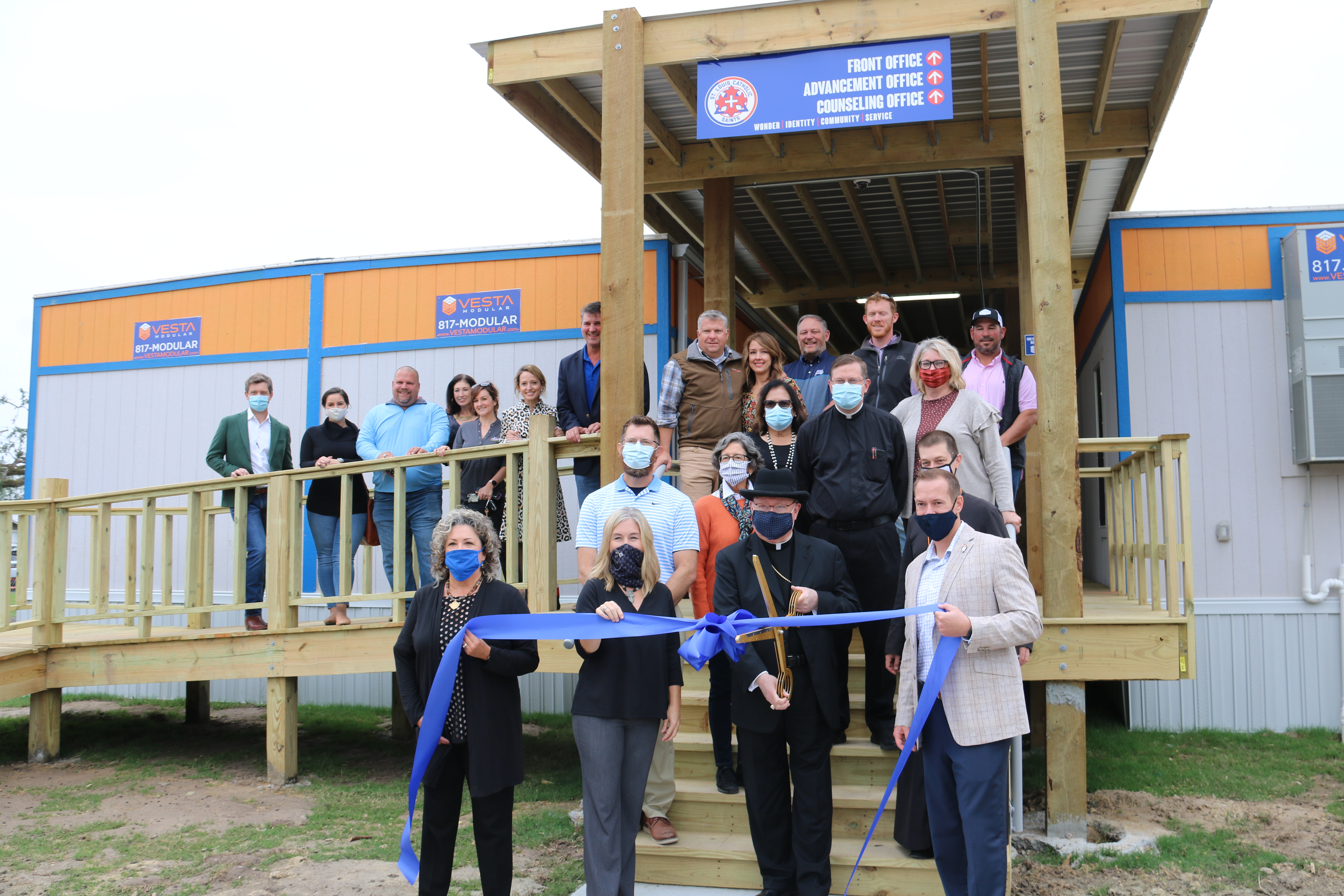 Bishop Glen John Provost, second from right, gets ready to cut the ribbon at St. Louis Catholic High School on October 26 for the recently completed temporary facility on the school's property. Joining him on the first row are, from left: Paula Ramsey, Chamber of Southwest Louisiana Vice President; Mia Touchet, St. Louis High Principal; Matt Fontenot, Director of Advancement at St. Louis; second row, from left: Blaine Wyninger, St. Louis High Vice Principal; Dinah Bradford, St. Louis Advisory Board President; Father Nathan Long, Rector of St. Louis; and third row, from left: Stephanie Rodrigue, Director of Temporal Goods; Father Ruben Buller, Vicar General and Chief of Recovery; and Kimberlee Gazzolo, Superintendent of Catholic Schools. (Photo by Morris LeBleu / Diocese of Lake Charles)