By Pamela Seal 
Diocese of Lake Charles  
LAKE CHARLES — Parishioners of Christ the King Catholic Church were "home for Christmas" after being displaced since Hurricane Laura in late August.
The special delivery of a double-wide trailer in early December was a welcome sight to the pastor, the Very Rev. Rojo Koonathan, H.G.N., a priest for the Heralds of Good News serving in the Diocese of Lake Charles.  
"It was like a Christmas miracle," said Father Koonathan. "When I saw someone pulling a building into the church parking lot, I thought it was just somebody trying to turn around off the highway. I was so surprised when they unloaded the building, then pulled out and brought the next piece in and put it all together. I was told by the Hurricane Recovery Team that the soonest a temporary building would be available would be January and it could be as late as February."
After celebrating Masses for his parishioners at 2:00 p.m. every Sunday at Our Lady Queen of Heaven Catholic Church, Father Koonathan welcomed back parishioners to 7680 Gulf Highway for the first time in four months the weekend of Dec. 19-20.
Bishop Glen John Provost served as celebrant for the 4:00 p.m. Mass on Dec. 19, during which time he blessed the building and consecrated the new altar.

Parishioner Mary Richard said she had no idea that a temporary building was in the works.  
"This was a pleasant surprise," said Richard. "Even though we are in a small trailer, it still brings our church family together. We were very thankful that Monsignor (Daniel) Torres let us use Our Lady Queen of Heaven Church, but it is so good to be back home and see a lot of familiar faces."  
With only a couple of weeks to prepare the building for the final days of Advent, and then the Christmas liturgy, there was no time to waste. Father enlisted the carpentry skills of Harold Dyke, longtime parishioner of Christ the King, to build an altar.  
"I showed Harold a picture of what I wanted, and I told him I needed it in one week," said Koonathan.   
The altar, made of oak, is modeled after the altar at St. Charles Borromeo Catholic Church in Fenton, where Father Koonathan served as pastor before being assigned to Christ the King in July.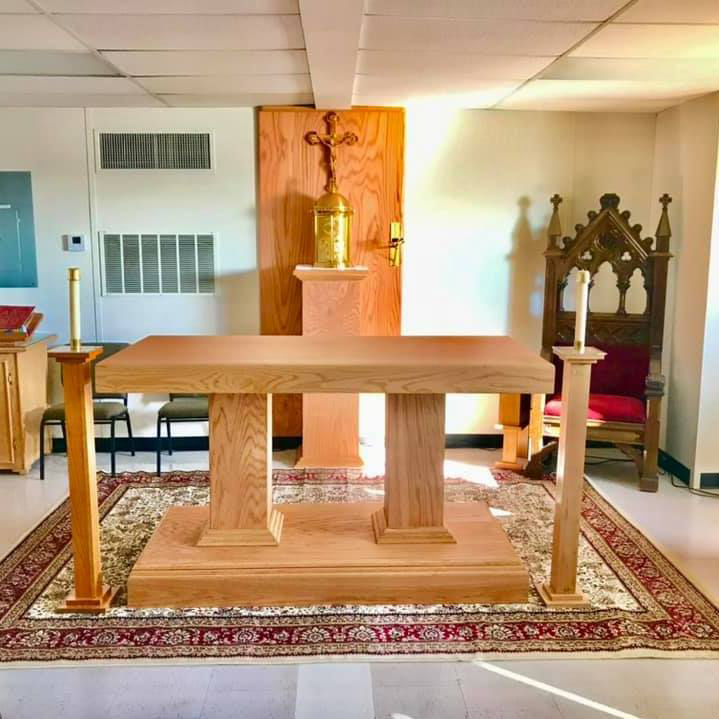 Dyke said he feels blessed that he was asked to build the altar, but at the same time said all the glory goes to God. He had never built an altar, but was willing to do whatever he could for the church.  
"After Father asked me to build it, we drove to Fenton and I took measurements," said Dyke. "I had to build it in parts so we could bring it through a single door. I built the bottom and the pedestal and the top separately. Once inside and all pieced together, I put the molding on."  
Among the nearly 75 in attendance at the Dec. 19 Mass, Dyke said he feels blessed to play a part in helping Christ the King Parish return to its own surroundings.  
"The Mass was beautiful. It was an amazing feeling to be back, and it was touching to know that people will be blessed by the altar," he said.  
The chair for the presider is on loan from Sacred Heart of Jesus Catholic Church in Creole — a church that experienced its own devastation — and the tabernacle is on loan from St. John the Evangelist Catholic Church in Lacassine. Many other items were donated by parishioners, such as the sound system, chairs, the chalice and ciborium.  
"It is very encouraging that the parishioners really want to help the church," said Father Koonathan. "If we eventually receive direction to build a new church, I'm confident it will be possible with their help."  
Susan Reeds, art and décor ministry leader, was eager to do her part in preparing the environment for the Solemnity of Christmas. 
 "We have not had a building to meet for fellowship and to celebrate for so long, so we are so thankful to have this," said Reeds. "We long to see each other. It has been my job to transform this modular building to a sacred space. I love doing this, and I hope it reflects what I feel inside."  
Zayne Armentor, an altar server who assisted at the Mass on Dec. 19, said it was the first time for him to serve since Hurricane Laura. An eighth-grade student at Grand Lake High School, Armentor said one thing he misses about the old church is being able to sit on the altar with the priest, but was still glad to get back into it. He did admit being a little nervous since Bishop Provost was the celebrant.  
"I am way more confident when I serve with priests because I am around them more," he said. "With this being my first Mass back to serve in a while, I was kind of nervous since it was with the bishop."  
Even though Armentor had only served with Father Koonathan a few times before Hurricane Laura hit, he said he is a really good teacher.  
"He brought the bells back and had been teaching us when to ring them. I know how to do that now," Armentor said. "The first weekend he was at Christ the King, he showed us how he does everything so we can adapt to his way. He is a really nice guy."  
Father Koonathan said he is counting on the new worship space to bring back parishioners to gather again as a church community. The timing of Christmas is the perfect gift to offer a place to call their own.
"This gives us hope, and we need to hold on to that hope and always trust in God," he said.