The Most Reverend Glen John Provost, Bishop of Lake Charles, hereby announces the pastoral assignments for the year Two Thousand and Twenty-One for the Diocese of Lake Charles, Louisiana.

Effective February 2, 2021:
The Rev. Jerish George, M.O.C. – Administrator, Sacred Heart of Jesus Parish on the Coast
The Rev. Clyde Thomas - Pastor, St. Joan of Arc Parish
The Rev. Whitney Miller – Director of Diocesan Counseling Services
The Rev. Keith Pellerin – Administrator, St. Philip Neri Parish,
with Father Trey Ange providing for
parish sacramental needs
Signed by our hand and that of our Vice-Chancellor, on day 9 of January in the Year of our Lord, 2021.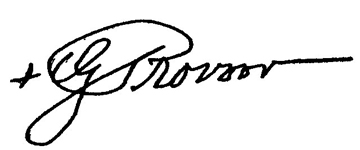 +Glen John Provost
Bishop of Lake Charles
(Very Reverend) Ruben Villarreal
Vice-Chancellor