This email address is being protected from spambots. You need JavaScript enabled to view it.
Diocese of Lake Charles 
As the saying goes: One good deed deserves another, especially when it comes to disaster relief between two dioceses affected by Category 4 hurricanes one year apart.
Before Hurricane Ida devastated the Diocese of Houma-Thibodaux on Aug. 29, much like Laura did to the Diocese of Lake Charles on Aug. 27, 2020, parishioners at St. Pius X Catholic Church in Ragley were texting and calling Father Jeffrey Starkovich, asking, "Are any of your friends who came to help us going to be affected by the storm? We want to help them the way they came to help us." 
Those friends belong to the same priest support group with Father Starkovich, pastor of St. Pius, and get together monthly for fellowship and spiritual nourishment. Within days after Hurricane Laura, their parishes from the Archdiocese of New Orleans and the Dioceses of Houma-Thibodaux, Lafayette, and Baton Rouge, drove to Ragley to bring supplies, cook meals in the parking lot, and clean up the church property. 
"That was a wonderful experience to have my close priest friends, eight in all, from my support group coming to help us out," recalled Father Starkovich. "As Hurricane Ida was approaching, we were checking in with each other making sure everyone was okay. My friend, Father Andre Melancon, and his parish St. Bernadette Catholic Church in downtown Houma were among those who had assisted us several times."  
St. Pius parishioners didn't waste any time after Ida's landfall heading to St. Bernadette with chainsaws and equipment to clean up around the church.
"Everyone knows how much we benefitted from the support of surrounding parishes and dioceses. Our goal was to meet the emergency of our neighbors to the east. We couldn't wait. We had to get them stable and safe," said Father Starkovich. "Just this Christian charity saying, 'now let's go help them.' That's the beauty." 
Catholic Charities of Southwest Louisiana, led by Sister Miriam MacLean, R.S.M., was also ready to spring into action. For the first trip on Aug. 31, Sister Miriam was joined by Father Starkovich, Father Joseph Caraway, parochial vicar at St. Henry Catholic Church; and Sydney Thomas, who coordinates disaster recovery at Catholic Charities. They loaded "Big Joe" — a 26-foot truck — with bottled water, tarps, and basic supplies, and caravanned to Houma along with Catholic Charities of Acadiana. 
"All the Catholic Charities in the state have very strong relationships with one another," said Sister Miriam. "Before the storm came, we had been in communication with each other. Once it became evident that it was going to hit southeast Louisiana, the conversation shifted to what do you need?" 
The day after Hurricane Ida's landfall, Catholic Charities offered 900 meals, donated by Phillips 66, for evacuees staying in the Lake Charles area. 
Looking back to last year, Sister Miriam said that God allowed things to happen in the Diocese of Lake Charles with back-to-back hurricanes while at the same time preparing her to help other dioceses. She and her team shared first-hand experiences providing immense resources to Bishop Shelton Fabre and his diocesan leadership of Houma-Thibodaux to assist with their own recovery.  
"Part of the reason we always had what we needed after Hurricane Laura was because other people knew from their experiences what we needed, and they just brought it before we could even anticipate we needed something," Sister Miriam said. "It's like a bond that only those who have been through a similar experience can share."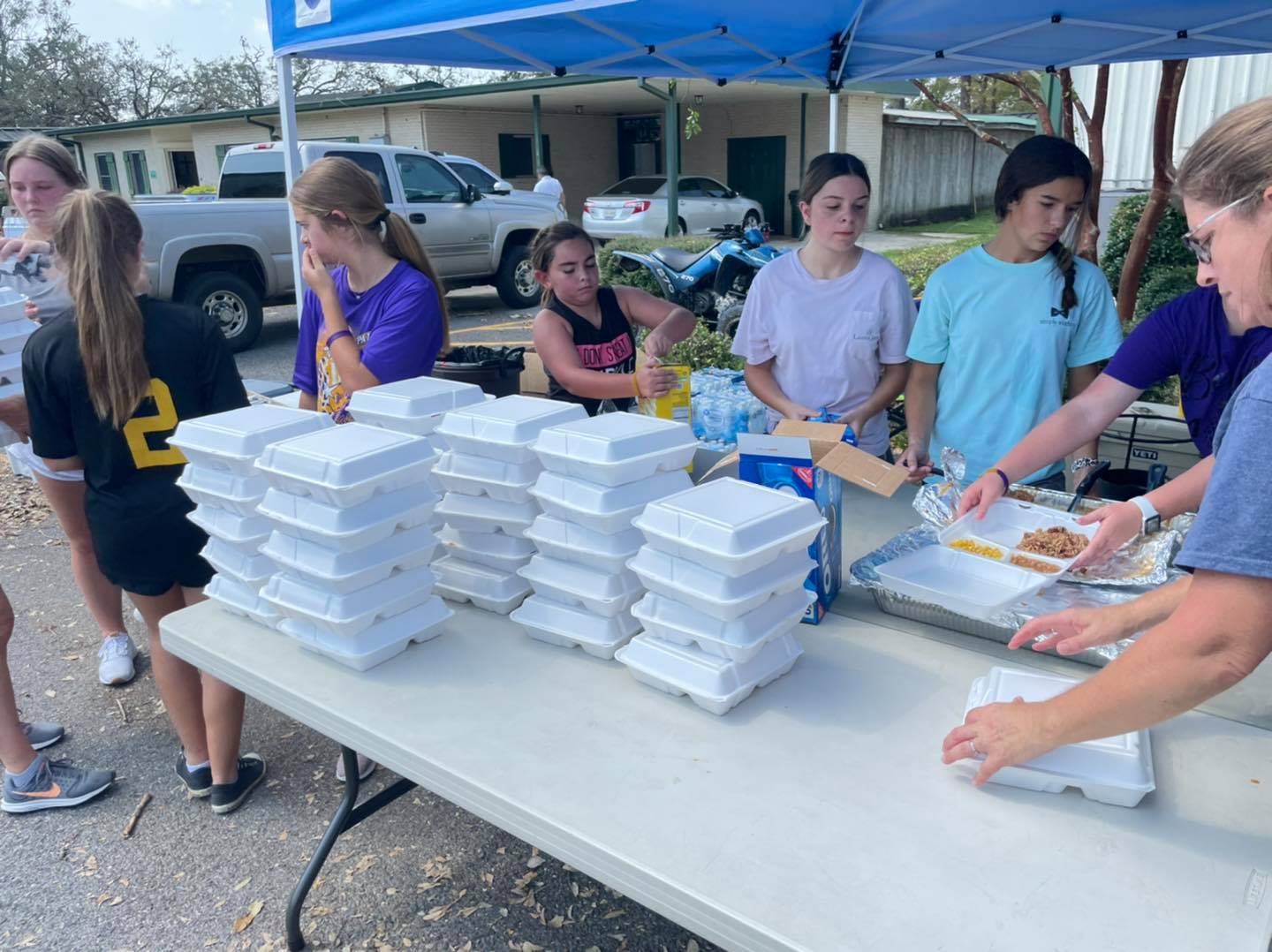 The Saturday of Labor Day weekend, Father Starkovich made another trip to St. Bernadette with nearly 50 volunteers from St. Pius X Parish. They cooked 400 plates of jambalaya, brought 300 gallons of gasoline, and another truckload of water and supplies on "Big Joe." 
Father Starkovich said he was amazed at the interest shown by the youth as young as elementary age and middle school students getting involved with their families. 
"It's beautiful to see entire families loading cars, talking to people, praying with people. The faith of the people in Louisiana is very much at the heart of their generous response," said Father Starkovich. "We have received blessings from the people who helped us, and now we have the opportunity to help them, too." 
Pairing Parishes Together 
After St. Bernadette Parish was stabilized, St. Pius partnered with two other parishes to make sure the rural areas have what they need. 
Father Andrew DeRouen, parochial vicar at St. Pius and St. Theodore, organized "Pairing Parishes Together" to work with priests in the dioceses impacted by Ida. While participation is optional, the idea is for priests throughout Louisiana to adopt one parish from the list. 
"Response from the pastors has been wonderful," said Father Starkovich, "making sure all the affected parishes have what they need. Parishioners of each partner parish can stay in contact with each other and do mission trips to bring supplies, work crews, or cook meals." 
In addition to St. Pius X, parishes in the Diocese of Lake Charles participating are Christ the King, Our Lady Queen of Heaven, St. Henry, the Cathedral of the Immaculate Conception, St. Martin de Porres, and Sacred Heart of Jesus, all in Lake Charles; Our Lady Help of Christians and Immaculate Conception, both in Jennings; St. Theodore in Moss Bluff; Our Lady of Prompt Succor and Our Lady of LaSalette, both in Sulphur; and St. Joseph in Vinton.
"I know God is bringing something good out of these enormous struggles," said Father Starkovich. "Somehow in God's mysterious way, we are going to see some very beautiful things. I have already seen the generosity and service people are doing. We will continue to hope, pray, work together and trust in the Lord. Whatever God has in store is what's best for us." 
Special Collection for Hurricane Ida Relief
The weekend of Oct. 2 and 3, the Diocese of Lake Charles will be taking up a special collection for Hurricane Ida Relief during all Masses. The funds collected will benefit relief efforts in the Dioceses of Houma-Thibodaux and Baton Rouge, and the Archdiocese of New Orleans. The money will be distributed proportionately according to the needs of each diocese. All three contributed generously to the Diocese of Lake Charles following Hurricanes Laura and Delta. Please give as generously as you are able in your parish and pray for the victims and those engaged in disaster relief.