LAKE CHARLES — The Office of Catholic Schools announced on February 23 the selection of Mrs. Blair Tadlock as the Principal of Immaculate Conception Cathedral School. Mrs. Tadlock most recently served as the Interim Principal and will assume her role immediately.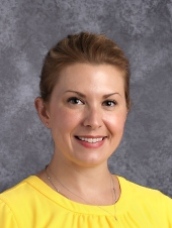 Mrs. Tadlock received a Bachelor of Science degree in Secondary Education/Social Studies from Louisiana State University and continued her graduate studies at LSU, where she obtained a Master of Educational Administration. In addition, Mrs. Tadlock completed Loyola Marymount University's Catholic School Leadership Academy in 2019.
An alumnus of Our Lady Queen of Heaven Catholic School and St. Louis Catholic High School, Mrs. Tadlock has taught in both elementary and secondary Catholic schools. Since 2005, Mrs. Tadlock has served the ICCS community as teacher, Assistant Principal of Curriculum, and Interim Principal. She also serves as Chair for the Office of Catholic Schools Curriculum Committee.
Upon the announcement, Mrs. Tadlock stated, "It is an honor to be selected to continue serving the ICCS students, parents, faculty, and staff in this new role of principal.  I look forward to continuing to work with the exceptional faculty and staff of ICCS and our loyal ICCS families as we all strive to live out our mission of strengthening spirits, minds, and bodies through the teachings of Jesus Christ."
In his letter to the school community, Father Rommel Tolentino expressed, "In her long tenure at ICCS, Mrs. Tadlock has demonstrated loyalty, dedication, and commitment to Catholic education, and particularly to our school.  Those who have worked with her have seen her ability to lead by example and her willingness to give support wherever it is needed.  She is a visionary leader who works hard to achieve what is best for the students and our school community.  She has the fortitude and strength of character to help us get through the challenges we face and lead us towards a brighter future".
The Office of Catholic Schools thanks the search committee and congratulates Mrs. Tadlock on her new role as principal of ICCS.