This email address is being protected from spambots. You need JavaScript enabled to view it.
Diocese of Lake Charles 
LAKE CHARLES — A team of four from Our Lady Help of Christians Catholic Church in Jennings walked away undefeated from the Diocesan 2022 Quiz Bowl hosted by the Office of Religious Education on Saturday, March 19. 
A total of 56 students making up 14 teams represented area schools and church parishes competing in the fifth annual event for grades 6-8. The contest — on all things Catholic — was held at Our Lady Queen of Heaven Catholic School.  
Other winning teams were St. Margaret of Scotland Catholic School, blue team, second place; Immaculate Conception Cathedral School, red team, third place; and St. Joseph Catholic Church in Vinton, red team, fourth place. Schools or parishes that entered more than one team were distinguished by colors. 
Cash prizes included $400, $200, $100, and $60, along with certificates signed by Bishop Glen John Provost. The Bishop also led the students in prayer before the start of the competition.

Teams answered a series of up to 30 questions in each round for one point each. After each question, the players rotated so all team members could participate. Being quick on the buzzer with the most correct answers was key to advancing to the next round.
Bryce Fontenot and Eli Moncla, team members of Our Lady Help of Christians, were aware of what was at stake to hold on to the championship from 2019. That was the last year Quiz Bowl was held before COVID-19 put a two-year pause on the competition. 
"Our older siblings were on the winning team in 2018 and 2019," said Moncla. "They won every round. I think what really motivated us was if we lost, our siblings would never let us live it down." 
This year, OLHC made it to the championship round undefeated as well. Their strategy was simple. They studied often.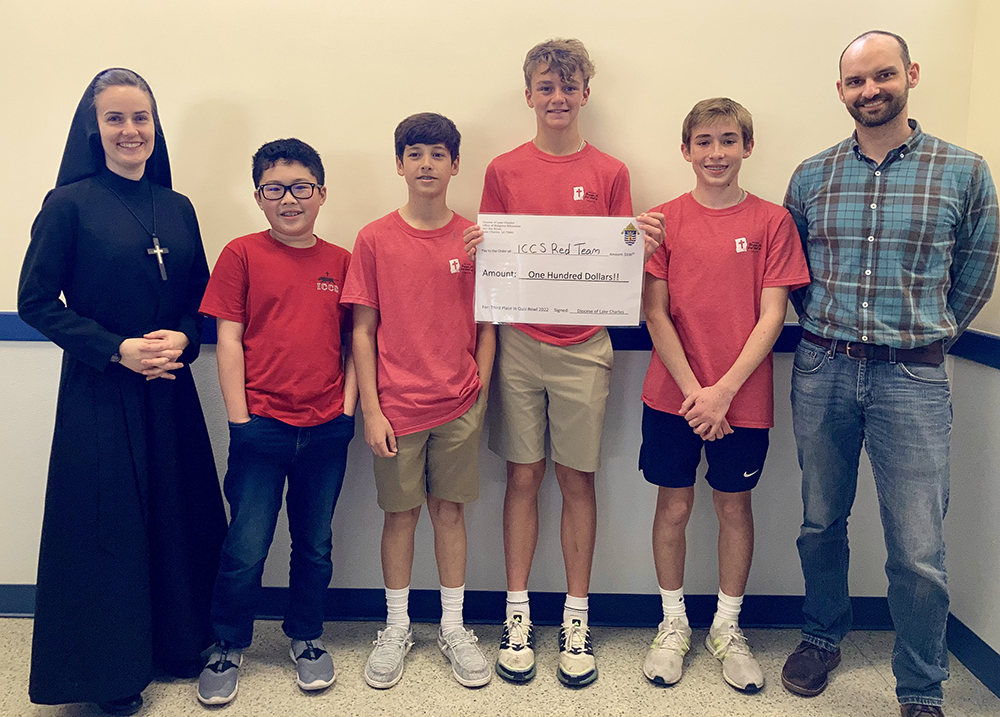 "We got together about four times a week, went over a set of questions, did a practice round, and when we went home, we studied some more," Moncla said. 
"After studying the questions, the four of us would divide into teams of two and compete with each other," said Fontenot. "We were nervous today, but we came, we tried, we did our best." 
A team from Sacred Heart of Jesus Catholic Church in Lake Charles was eliminated after two rounds but enjoyed the friendly competition while learning more about their faith. 
Aniyah Lawden said she and her team members, who have all grown up together as friends, studied for several months leading up to the Quiz Bowl.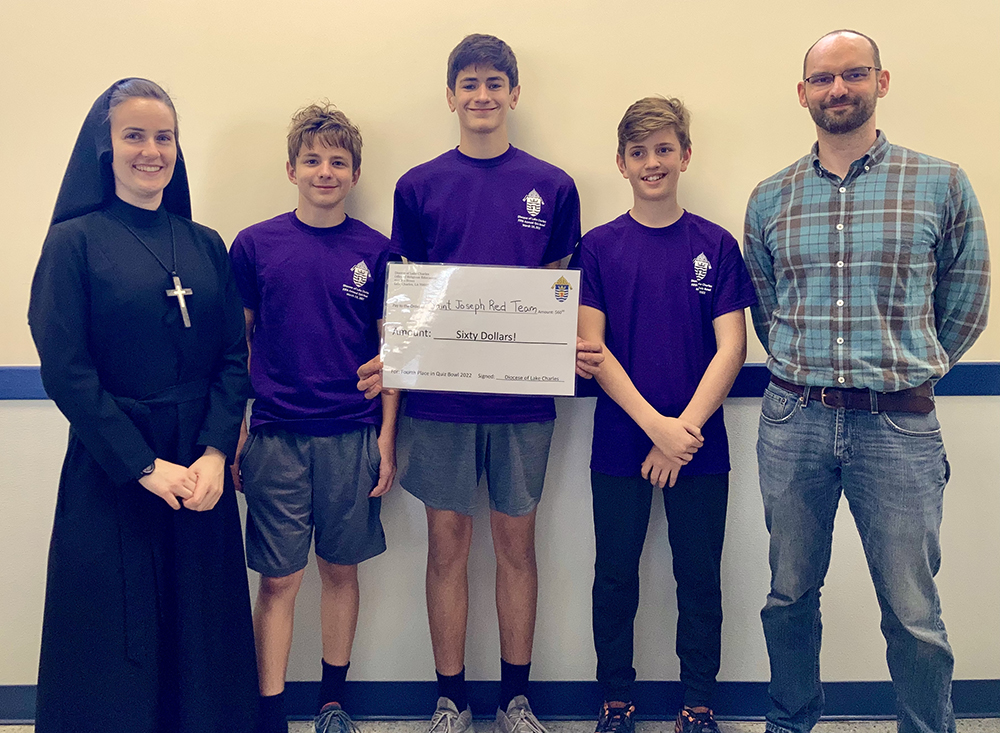 "We knew a lot of stuff from CCD over the years, but when we started practicing for this, we learned a lot more than we thought we did," Lawden said. "Even though we lost, we will keep studying so we will be ready for next year. That's one thing about Sacred Heart. We don't give up; we just keep going. We are all like family to each other." 
Shyanne James, also of Sacred Heart, said the Quiz Bowl helped open her mind to learn more about the Catholic Church. 
"I learned about the Holy Trinity and that Jesus is three in one. I didn't know that before," she said. "There was a question about the Assumption (of the Blessed Virgin Mary) that really stumped me." 
Sister Maura Clare Mayock, R.S.M., Director of Religious Education for the Diocese, enjoyed watching the students show enthusiasm for their faith mixed with friendly competition. 
"It is inspiring to see the young people in our Church out here having fun, showing good sportsmanship, and getting so excited about our faith," said Sister Maura Clare. "Between rounds, students were quizzing each other, taking a break to play soccer in the beautiful weather, and enjoying ice cream, pop, and pizza." 
In addition to celebrating facts of Catholicism, Sister said the Quiz Bowl was a community-building event. 
"The annual contest brought in religious, priests, and laity active in ministry to serve as judges and role models to the youth today," she said. 
The 14 teams competing included the Cathedral of the Immaculate Conception; St. Martin de Porres Catholic Church; three teams from St. Joseph Catholic Church in Vinton; Our Lady Immaculate Catholic School and Our Lady Help of Christians, both in Jennings; Sacred Heart of Jesus Catholic Church; four teams from Immaculate Conception Cathedral School; and two teams from St. Margaret of Scotland Catholic School. 
Judges for the Quiz Bowl were Sister Mary Benedicta Maier, R.S.M.; Father John Payne, Father Sam Bond, Lucas Orsot, John Souder, and Dru Ange.