By Pamela Seal 
Diocese of Lake Charles 
LAKE CHARLES — On the first of his visits for the 2022-2023 school year, Bishop Glen John Provost interacted with students during an impromptu Q&A at St. Louis Catholic High School on Thursday, August 25. The annual visit and school Mass coincided with the Feast Day of Saint Louis IX.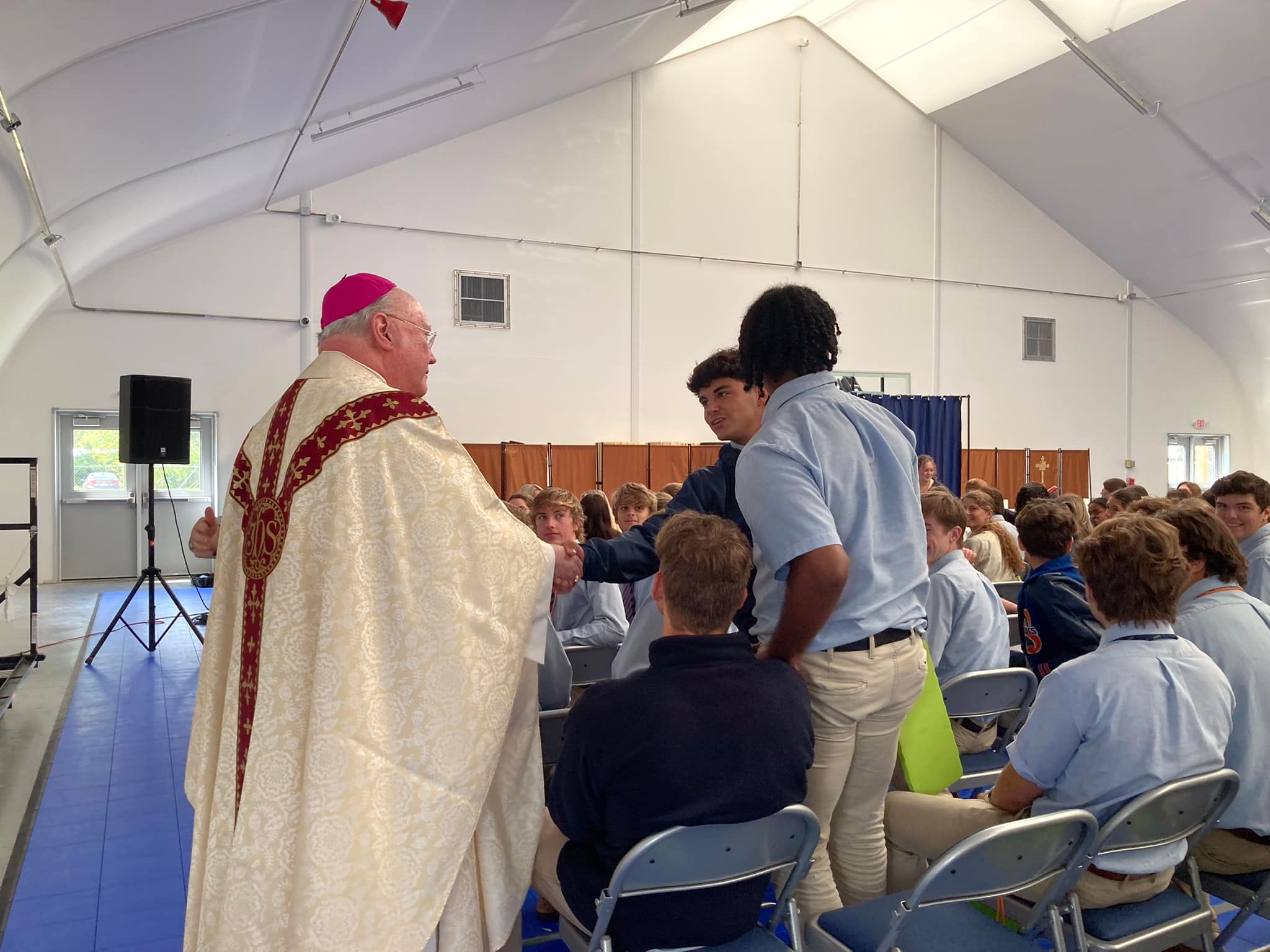 "What is your favorite sport?" asked one student following the Mass celebrated in the school's enclosed 80-by-40-foot pavilion. It was the first time for the Bishop to see first-hand the 11,000-square-foot temporary structure that is used for school assemblies, Masses, athletic practices, P.E. classes, and more since the main campus was destroyed by Hurricane Laura in 2020. 
"I really do like a good football game, but a good football game," Bishop Provost emphasized, prompting applause from more than 500 students gathered with faculty and staff. 
When the Bishop said he especially enjoys watching high school and college football, the student invited him to their Jamboree game between St. Louis and Sulphur high schools. "I'm sure you will win," the Bishop said confidently. 
"What is the most memorable place you have celebrated Mass?," another student inquired.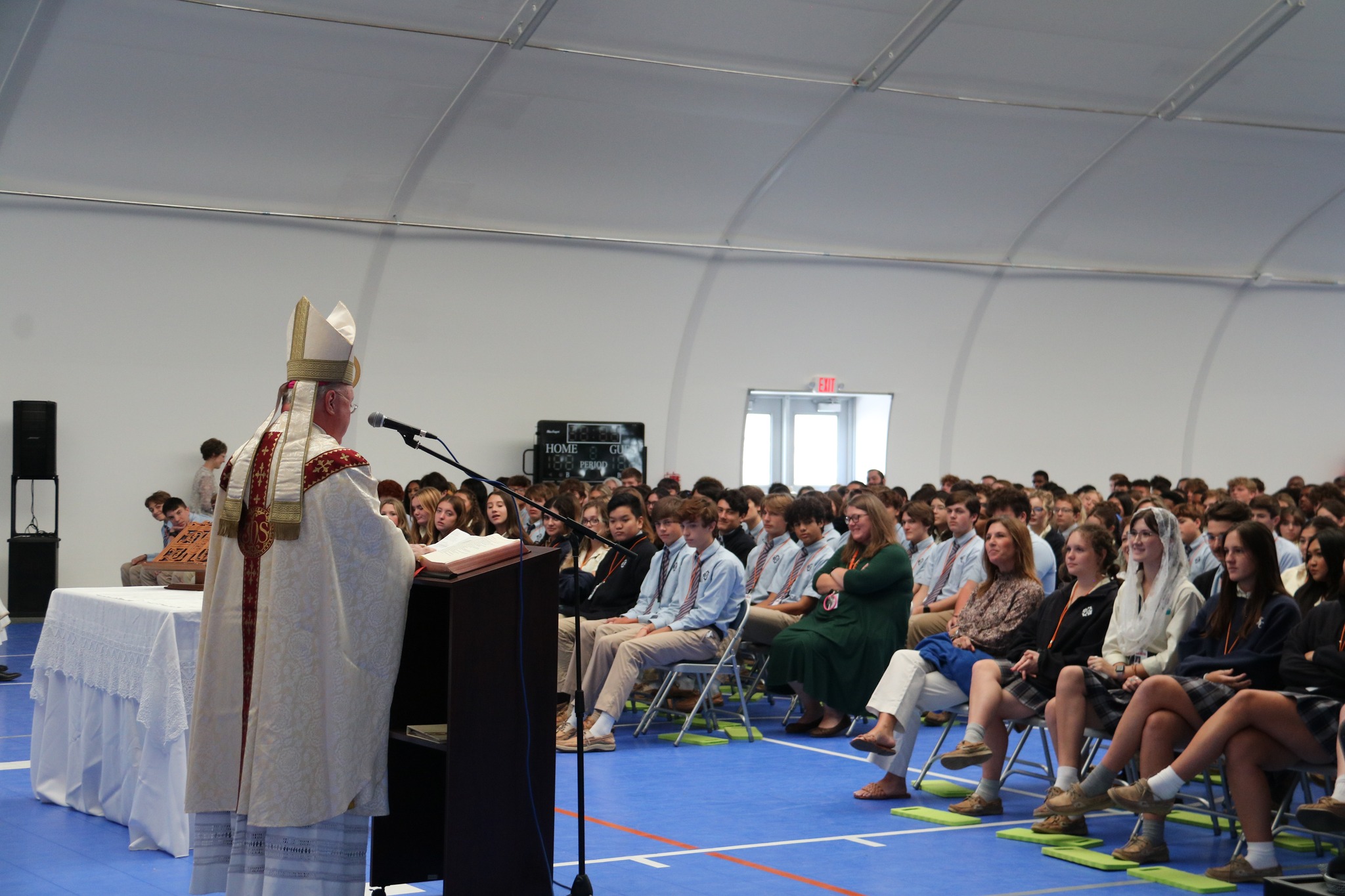 "Besides St. Louis High School, in this lovely pavilion," the Bishop quipped, "one of my top three favorite places to celebrate Mass was in the Chapel of Our Lady of Rome in St. Mary Major Basilica for my first Mass after I was ordained by Pope St. Paul VI in 1975. That was a very moving experience."  
He also mentioned two other treasured places — the Church of the Holy Sepulchre in Jerusalem, and the Cave of St. Jerome (beneath the Church of the Nativity) in Bethlehem. "Those were very special, too," he recalled with an enthusiastic tone. 
Before the Bishop departed, students had learned that he has been a bishop for 15 years; one of his favorite movies is the 1942 film "Casablanca"; he likes oatmeal with blueberries and buttermilk; he does not eat fast food; and one of his favorite Bible verses comes from the Sermon on the Mount: "Do not worry about tomorrow for tomorrow will take care of itself. Each day has enough troubles of its own." (Matthew 6:34)
Preceding Mass, Bishop Provost stopped into a couple of freshmen classes in session — Ethics/Philosophy taught by Elizabeth "Bit" Thompson, and English taught by Hannah Guth. Incidentally, the Ethics/Philosophy class is the only class at St. Louis where students are not allowed to use computers. All their notes are handwritten.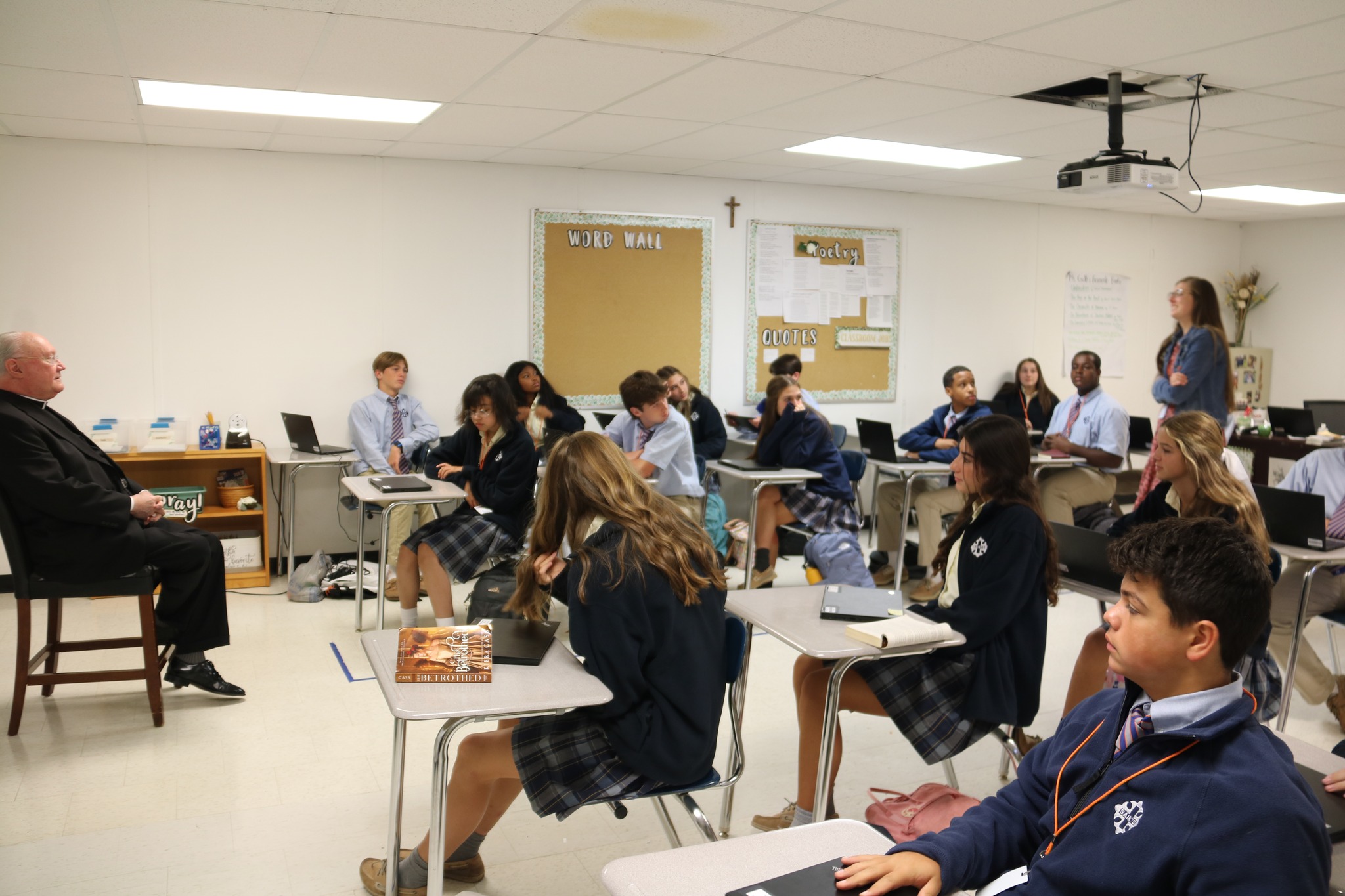 Concelebrating the back-to-school Mass were the Very Rev. Ruben Villarreal, PhL, JCL, Dean of Christian Philosophy of Academics; Rev. Nathan Long, Rector; Rev. Andrew DeRouen, Chaplain; and Rev. Whitney Miller, PhD, LPC, Director of Counseling Services. Rev. Samuel Bond served as Master of Ceremonies, assisted by Deacon Stephen Starr. 
A total of 2,308 students are enrolled in Catholic schools throughout the Diocese of Lake Charles. Bishop Provost will continue his visits throughout the school year to Immaculate Conception Cathedral School, St. Margaret Catholic School, and Our Lady Queen of Heaven Catholic School, all in Lake Charles; Our Lady Immaculate Catholic School in Jennings; and Our Lady's Catholic School in Sulphur.  
Contact the Office of Catholic Schools at 337-433-9640, ext. 400, for more information on any of the schools in the Diocese of Lake Charles.