By Pamela Seal 
Diocese of Lake Charles 
LAKE CHARLES — For participants at Veritas 2022, who can help but experience — with enthusiasm — the Mass in a whole new light moving forward.
The Diocese of Lake Charles' Office of Religious Education hosted its 11th annual Catholic Conference on Saturday, September 17, at Our Lady Queen of Heaven Family Life Center for adults seeking to be informed in their faith, enriched, pray and live better as Catholics. This year's theme was "The Most Holy Eucharist."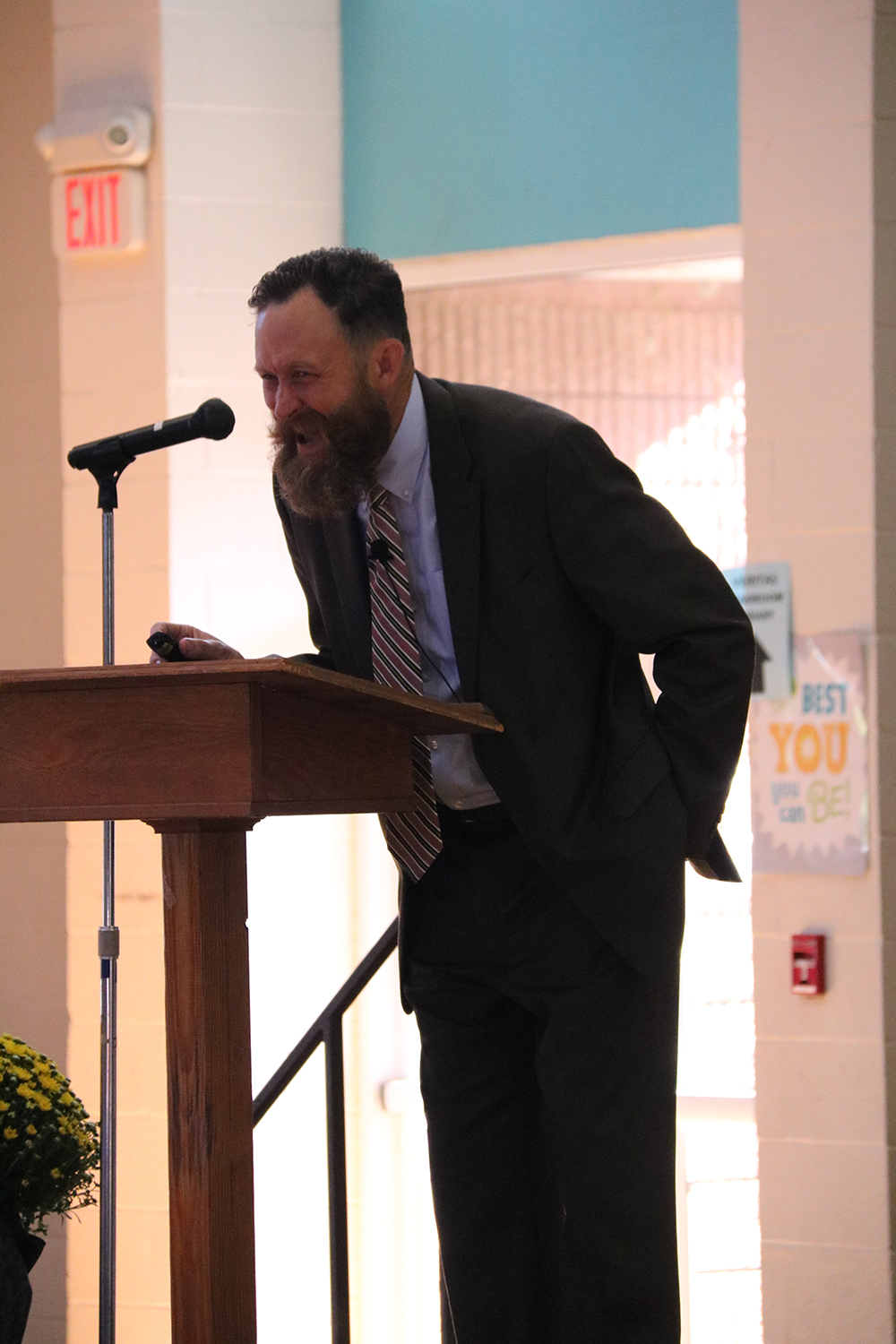 Learning about the Catholic faith is part of a lifelong journey, and nearly 250 people from around the diocese took advantage of an opportunity to grow deeper in knowledge and truth during the Eucharistic Revival effort under way on the national level. 
Keynote speaker Christopher Carstens took Veritas attendees on "A Devotional Journey into The Mass" — the title of his book — teaching cradle Catholics, new Catholics, and even bored Catholics, simple ways to make every Mass a joyful time of piety and intense devotion. 
"The Mass should be brilliant, radiant, and an awesome experience every Sunday," said Carstens who serves as Director of the Office of Sacred Worship in the Diocese of La Crosse, Wisconsin. He is also co-host of "The Liturgy Guys" podcast (www.liturgyguys.com) and editor the Adoremus Bulletin (www.adoremus.org). 
The conference opened with a welcome and prayer by His Excellency, the Most Reverend Glen John Provost, Bishop of Lake Charles. He also was the celebrant for Mass ahead of lunch catered by BeauxDines. 
Carsten's morning session focused on the Liturgy of the Word, followed by his afternoon talk on the Liturgy of the Eucharist. He also served as one of several breakout session presenters with the topic: The Second Vatican Council: Constitution on the Sacred Liturgy. 
In his keynote, Carstens explained spiritual meanings behind the signs and symbols, words, and actions of the Mass. He touched on ways to enter the church building, make the Sign of the Cross, listen to the readings, prepare your soul at the Offertory, receive Communion to the fullest, and even respond to the Dismissal. 
"Going to Mass should be like being on Mount Tabor. Saints knew how to pray the Mass," Carstens said. "They radiate with Divine glory and beauty." 
It was the first time for Germain Washington to attend Veritas, (Latin for truth). A parishioner of Our Lady Queen of Heaven Catholic Church, she said that the event exceeded her expectations. 
"A big attraction for me was that I had never seen or heard Bishop Provost, so I really wanted to attend," said Washington. "I was also not familiar with the keynote speaker. Listening to him and hearing how he explained the Mass in a different way was a big takeaway for me. I am always present in Mass but doing as he suggested and having an awareness of the sacramental principle is important." 
One of two breakout sessions Washington attended was Saint Katharine Drexel and the Blessed Sacrament presented by Sister Miriam Ruth Ryan, RSM. 
"I was not familiar with Saint Katharine Drexel, so I Googled her and decided I wanted to learn more about her. Sister did a beautiful job," said Washington.
Saint Katharine's crowning achievement was the founding of Xavier University in New Orleans, the first Catholic university in the United States for African Americans. She was also instrumental in opening Sacred Heart of Jesus/Saint Katharine Drexel School in Lake Charles in 1908. 
Catechists are always looking for ways to pass on the faith to the students they teach, and Vickie Fontenot of Our Lady Help of Christians Catholic Church in Jennings is no exception. 
"All of the talks motivated me. I teach seventh graders, so I was interested in hearing more about Theology of the Body," she said. Fontenot attended the breakout session, The Devil Ain't Got No Clay, by Becky Clements who talked about our dignity as human persons. "I also enjoyed the talk, Who Me … An Online Saint? Evangelizing with New Media, by Father Jeffrey Starkovich and learning more about Blessed Carlo Acutis." 
Sister Maura Clare Mayock, RSM, Director of Religious Education for the Diocese, said it is a joy to have opportunities to make the event a great experience, even in the little touches. 
"I was happy to see the response of the people, just in the number pre-registering leading up to the day, yet also in the atmosphere of the event, as participants spent time visiting with one another during breaks and were enthusiastic to get a front row seat in their favorite breakout session," said Sister Maura Clare. 
Jeanne Fontenot and Mary Robinson were among those attending Veritas for the first time. 
"The keynote speaker was very good and inspiring. I took a lot of notes," said Fontenot, who attends Our Lady Queen of Heaven and St. Margaret church parishes. 
Robinson, who teaches first-graders at Our Lady of LaSalette Catholic Church in Sulphur, is constantly looking for opportunities to learn. She attended the breakout session, Eucharistic Presence of the Good Shepherd presented by the Our Lady of the Lake Parish Team. 
"I have been a catechist for eight years, and I think we all have a desire to grow in knowledge. The more we know the more we can grow in our faith," Robinson said. "The breakout session explored encountering Jesus in the Eucharist with children. I also enjoyed the session, A Eucharistic Marriage, by Monica and Stephen Broussard. I'll definitely be back next year." 
Other breakout sessions were presented by Colette Bulber Tanner on Catholic Eucharistic Music; Sister Mary Benedicta Maier, RSM, on Viaticum, the Last Sacrament of the Church; and Deacon Harold Nixon, a reflection on a Black Catholic's conversion journey. 
Sister Maura Clare said her hope is that the fruit of Veritas will continue to unfold as attendees go home to their church parishes with a renewed life of prayer and relationship with the Lord. 
"I hope they learned something they can share with another person and that they have renewed energy to share the goodness of the Lord in all they do," Sister concluded.
PHOTOGRAPHY BY: Morris LeBleu / Diocese of Lake Charles. View more photos on the Roman Catholic Diocese of Lake Charles Facebook Page.