Alvin Gerard Jordan Sr., a Louisiana creole native, was born in the union of the late Frank A. and Leola M. Jordan, on November 6, 1967, in Lafayette, Louisiana.  In his participation in "the sacred dance", Gerard has had the opportunity to be a previously married man, father of his now adult children and was a proud grandfather.
He is a former U.S. Marine and civilian, with a previous career as a business manager that led to the ownership of his own real estate conglomerate and mental health services corporation. Upon retirement, after a 20-year business career, in August 2005 he then revisited his relationship with religious life and entered the monastery and was ordained a canon and priest in the Roman Catholic Church.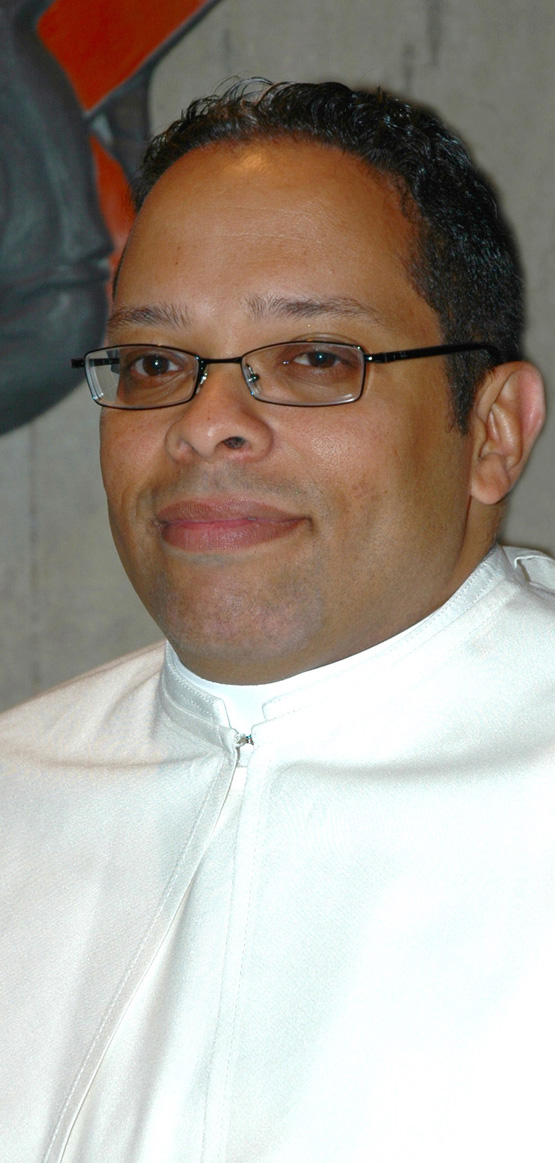 He began discerning his vocation to the priesthood as a young boy in 1975 under the mentorship of Fr. Albert J. McKnight, C.S.Sp. with Bishop Dominic Carmon SVD as his spiritual directors through his adult life.  He was educated by the Sisters of the Blessed Sacrament while attending Immaculate Heart of Mary School and graduated from St. Louis High School, both in Lake Charles, Louisiana. As he continued his faith formation, Gerard matriculated in his undergraduate business studies at Cabrini College in Radnor, Pennsylvania, (Organizational Management – Magna cum Laude) and LaSalle University in Philadelphia, (Philosophy).  He also studied preaching and homiletics at the Institute for Black Catholic Studies, Xavier University.  He became a certified hospital chaplain through the University of Pennsylvania Health System at the University of Pennsylvania.  He then earned a Master of Divinity from Catholic Theological Union, (CTU) in Chicago, Illinois.

In May 1976, he became a member of the Knights of St. Peter Claver and was an active 4th Degree Knight.  Fr. Gerard was a third-degree member of the Knights of Columbus and served as an associate chaplain to the Knights of Malta.  He was the first African American seminarian to be given the privilege of becoming a Papal Knight of the Holy Sepulcher of Jerusalem.  Additionally, Fr. Gerard was a Titular Canon of the Holy Sepulcher of Jerusalem in Israel and is entitled to the benefices and privileges of that office.

As a monastic and cenobite, he was a member of good standing with a religious order of canons.  Fr. Gerard was an active member of the faithful order of priest at Daylesford Abbey, Paoli, Pennsylvania.  His association with Daylesford Abbey began when he became a postulant in August 2005 and went on to profess simple vows.  As a consecrated religious brother, he professed solemn vows August 2014 and became a deacon a year later.  He then was ordained on the anniversary of the death of the first recognizably African American priest, Venerable Father Augustus Tolton.  Fr. Gerard was ordained a priest on July 9, 2016.  Solemn vows and ordination afforded him the blessing to serve the Church as one, of only four, African American canons in the world.  The roles Fr. Gerard had the privilege of serving in since his service began at Daylesford Abbey are associate development director, assistant vocation director and parochial vicar in a local parish. As his schedule permitted, he traveled the country as a revivalist, retreat master, educator, faith formator, and a public speaker. He served briefly as the Administrator of St. Edward Catholic Church of New Iberia, Louisiana. He was serving as full-time Priest Chaplain at Our Lady of Lourdes Regional Medical Center at the time of his death.
Finally, His Eminence, (the late) Cardinal Francis George, OMI, with the support of Rome in 2011, announced that with Church's pursuit of the cause for canonization of Father Augustus Tolton, the Tolton story should be shared with the world. 
In 2013 Gerard was appointed as Special Assistant for the Cause while he was still a seminarian in Chicago.  He became a Special Assistant to the Most Reverend Joseph N. Perry, Auxiliary Bishop, Archdiocese of Chicago and Diocesan Postulator for the Cause for Sainthood of Father Augustus Tolton.  Gerard was elevated to Promoter of the Cause and traveled the country telling the story of this Servant of God and his entire family.  Fr. Jordan often reminded anyone who would listen, that he brings the essence of his diaconate forward within him into his priestly ministry and the Tolton Cause allowed him to be of service in that way.  As of September 17, 2020, he became the inaugural Executive Director of the newly established TOLTON SPIRITUALITY CENTER. The Center is a clearinghouse and community hub designed for parishes and community institutions to share their insights and practices that encourage living with the values and virtues that defined Tolton's life and ministry. It was created with a $1 million grant from the Lilly Endowment that Fr. Jordan secured.
Alvin Gerard Jordan, Sr. is survived by his son, Alvin Gerard Jordan Jr. (Tee), his daughter Brittany Sasha Marie Jordan, grandson Alvin Gerard Jordan III all of Opelousas, Louisiana; his brother, Frank A. Jordan (Connie) of Sherwood, Arkansas; his sister, Altha M. Jordan-Green (Oscar) of Lake Charles, Louisiana; four nieces, Desireé Bellard, Reneé Jordan, Allie Jones, Shanelle Jordan; one great niece, Madelynn Jones; four great nephews, Damond, Dominic, Daxton Bellard and Langston Jones; A host uncles, aunts, cousins, friends and family.
He was preceded in death by his parents, Frank A. and Leola M. Jordan; his maternal grandparents, Louis Judwin, Eva and Lloyd Pitre; and his paternal grandparents, Joseph and Hazel Jordan. 
Visitation will be Saturday, October 8, 2022, from 8:00 a.m. to 11:45 a.m. in Immaculate Heart of Mary Catholic Church, followed by a funeral service at noon in the church. Burial will be in Sacred Heart Cemetery under direction of Combre Funeral Home.