By Pamela Seal
Diocese of Lake Charles
LAKE CHARLES — The Diocese of Lake Charles recently observed National Vocation Awareness Week, November 6-12. It is a time dedicated to promoting vocations to the priesthood, diaconate, and consecrated life, and to renew our prayers and support for those who are considering one of these vocations.  
To assist those discerning the priesthood, the Diocese is blessed to have relocated Vianney House of Discernment and Formation to 206 Aqua Drive across from Our Lady of Good Counsel Catholic Church earlier this year.
Nearly two years to the day that Hurricane Laura damaged Vianney House in 2020, Bishop Glen John Provost blessed its new location on August 24, 2022.  
In 2011, the Diocese of Lake Charles opened Vianney House, a residence for men discerning the priesthood. The original location was the old faculty residence of St. Louis Catholic High School on Bank Street. 
A second hurricane six weeks after Laura, followed by devastating consequences from the ice storm in early 2021, forced Vianney House to close. It was the intention of the Diocese to relocate, and possibilities began to unfold providentially by the end of that same year. 
"A very generous bequest from Leslie and Elizabeth Singletary Richard in April 2022 made it possible for the Diocese to purchase a new Vianney House, immediately across the street from Our Lady of Good Counsel, an excellent location for a house of discernment," said Bishop Provost.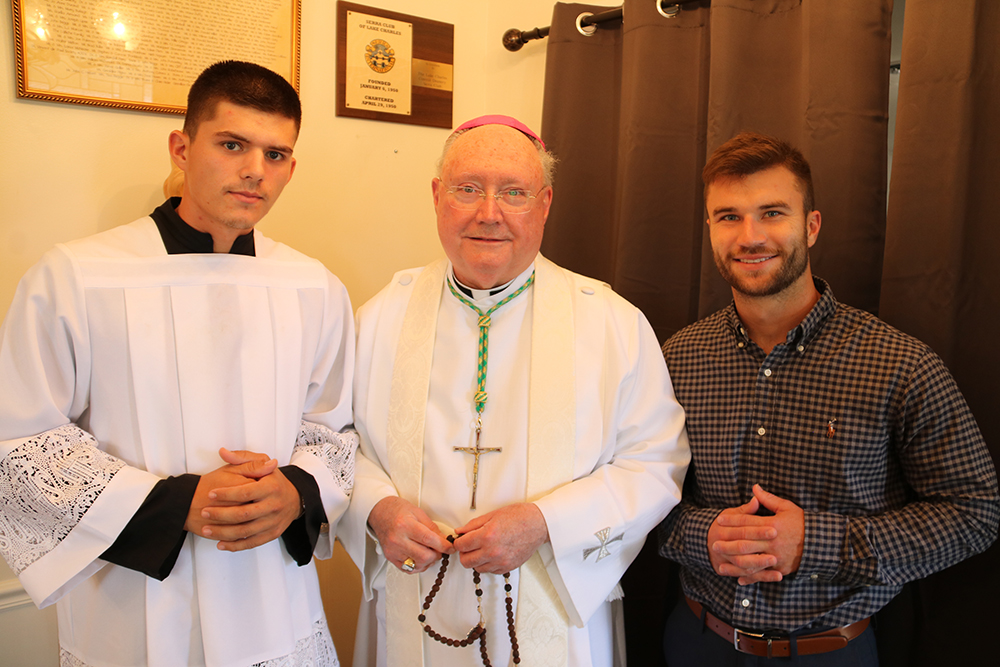 As Director of Vianney House and Director of Vocations, Rev. Michael Caraway worked behind the scenes since mid-April creating an environment where young men will prayerfully discern God's call in their lives. He has also witnessed the kindness of others on many levels. 
"Over several months, as I prepared the Vianney House for the incoming men, a great joy has been seeing people's support and generosity," said Father Caraway. "Helping men discern their vocational calling is so important and something that I love to do. It has been a joy to see that so many recognize the importance of men discerning the priesthood and are willing to give to ensure that it can happen." 
Under the spiritual direction of Rev. Caraway, those living at Vianney House can discern seriously God's call to a vocation to the diocesan priesthood, but who have not yet decided to enter the seminary. 
"The Vianney House is not for men who know they will become priests," said Father Caraway. "It is meant for those who do not know but want to find out. My immediate hope is to help the men in the program to hear the voice of God and discern their vocational calling." 
He went on to say, "My more long-term hope is to create a culture of vocations where young men are open to the priesthood and willing to discern whether God is calling them to be a priest." 
Regardless of whether a resident of Vianney House goes to seminary afterwards, he will have acquired virtues and built confidence and conviction to live as a holy Christian man in the world. 
The discernment program at Vianney House runs for one full school year, August to May, and has as its focus three principal areas — prayer, study and work, and community life. 
"Because of the structured schedule of prayer, instruction, and direction, residents are blessed with enlightenment from God which gives a man confidence in what he must do next," Father Caraway explained. 
The first two residents at the new location of Vianney House are Cameron Fontenot of St. Martin de Porres Catholic Church in Lake Charles, and Logan Guillot of Our Lady of LaSalette Catholic Church in DeQuincy. Both were present when Bishop Provost blessed the house, including the chapel inside where he placed a first-class relic of St. John Vianney on the altar. The beloved saint is the patron of priests and confessors.
"We are delighted and very thankful to God for the reopening of Vianney House and look forward to welcoming those who will discern the priesthood before entering the seminary," said Bishop Provost. 
To inquire about applying to the Vianney House for the 2023-2024 school year, please contact Father Michael Caraway, Director of Vocations, at 337-439-7400, Ext. 226, or email This email address is being protected from spambots. You need JavaScript enabled to view it.. Applicants must be at least 18 years old and pass a Safe Environment Background Check. 
If you would like to contribute to Vianney House, checks may be written to the Diocese of Lake Charles with "Vianney House" in the memo and mailed to Diocese of Lake Charles, attention: Vianney House, P.O. Box 3223, Lake Charles, LA 70602.