By Pamela Seal
Diocese of Lake Charles
LAKE CHARLES — New Life Counseling's answer to saving lives and "meeting women where they are" rolled into their Lake Charles clinic at 631 E. School Street at 9:00 a.m. Wednesday, April 19, to cheers from staff, volunteers, board members, and community supporters. 
The first of its kind in Louisiana, the state-of-the-art mobile medical unit is the pregnancy resource center's effort to reach abortion-minded women who have not yet heard of their services nor have transportation to the center.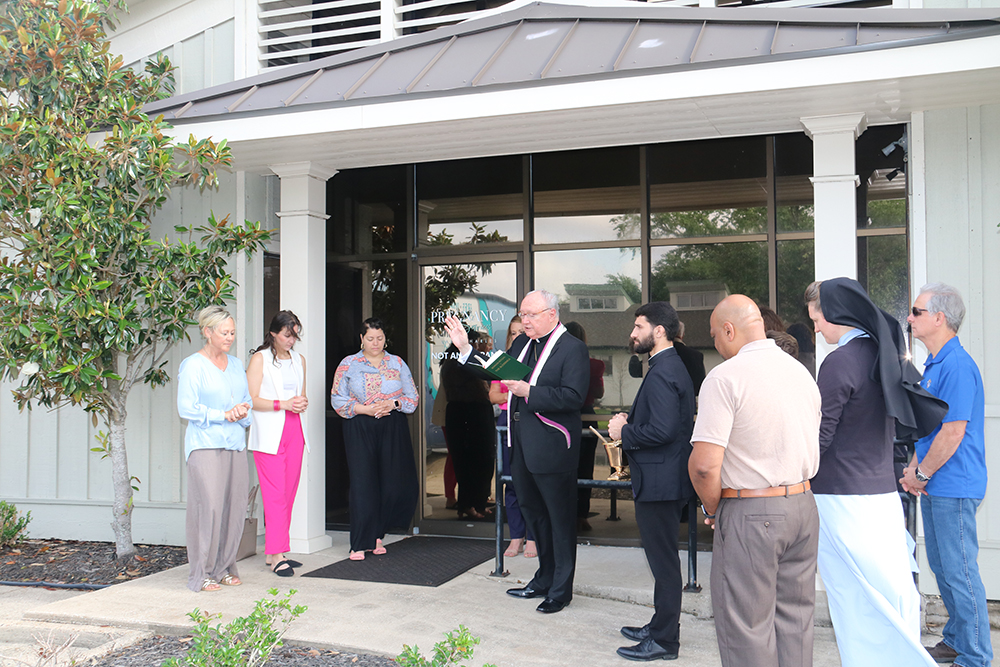 The Most Reverend Glen John Provost, Bishop of Lake Charles, blessed the mobile medical unit on Friday, May 12, ahead of Mother's Day weekend. He was assisted by Father Joseph Caraway, Parochial Vicar of St. Henry Catholic Church and NLC board member. 
Tabitha Dugas, Executive Director of New Life Counseling and New Life Medical Services who first announced news of the mobile clinic in October 2022, said that lack of transportation is not an excuse anymore for women who need many services offered by the center. 
"Save the Stork" buses bridge the gap between pregnancy centers and women so they can access quality healthcare no matter where they are. Some of the services include pregnancy testing, STI/STD testing and treatment, OB ultrasounds, and Abortion Pill Reversal — all offered free of charge to clients.
"The main obstacle many women had in receiving assistance from New Life Medical Services was transportation," said Dugas. "As a center and ministry, our direction had to be going mobile and reaching those women." 
Dugas said the mobile unit is an answer to New Life Counseling's response to a Post-Roe America. 
"The need for our services has increased since the overturning of Roe v. Wade last June. We had to overcome what we knew was the biggest obstacle for so many women," Dugas explained. "That was really our heart behind the mobile clinic." 
Dugas didn't hesitate to mention that New Life Medical Services is the first in the state to have a mobile medical clinic of its kind and credits the many donors for making it possible.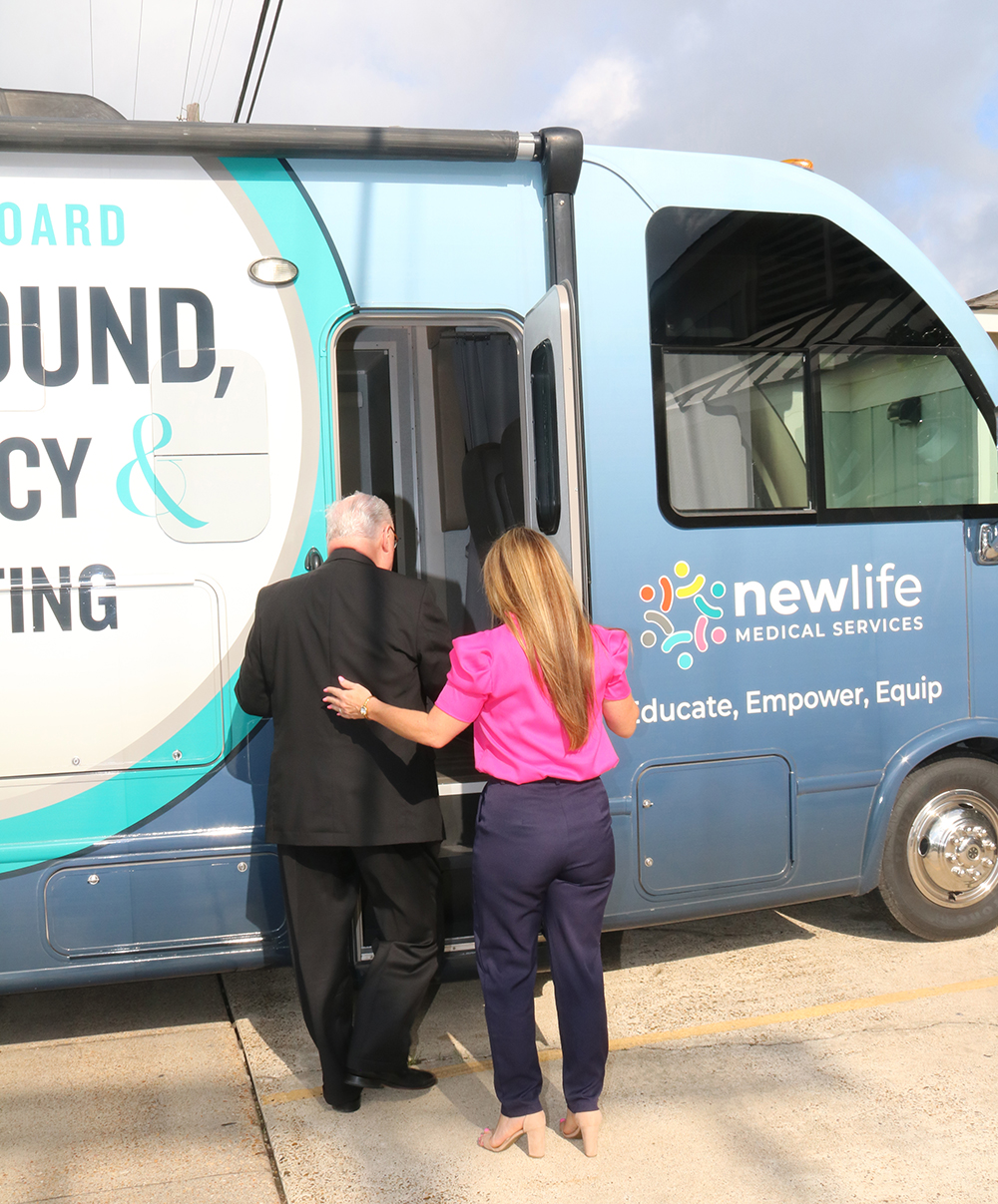 "We are very blessed to have faithful donors who pour their hearts into this ministry of saving innocent lives," she said. "We feel very grateful and honored that the community has come together to support New Life going mobile and getting this stork bus here in Lake Charles." 
Dugas said she hopes the bus will be fully operational by the fall. 
"We are hoping to schedule a couple of locations in Lake Charles by mid-summer to get our feet wet and still be close enough to the center in case we need to pivot quickly for supplies," she said. "We are looking for areas that are willing to give us support and a location for us to show up and park, and we will do the rest." 
Among the board members present for the mobile clinic's grand arrival was Blake Brignac who serves as president. 
"Our goal is to meet those women who are not able to make it to Lake Charles. We want to serve communities and the parishes surrounding Calcasieu that don't have the services New Life Counseling offers," Brignac said. "The goal is to convince abortion-minded women that there are other choices and to save as many babies as we can." 
As a nod to the biblical story of the first baby saved by adoption, Dugas has named the mobile medical unit, "Mama Jo," after Jochebed, the mother of Moses who placed him in a basket and released him in the flow of River Nile to save his life. The basket fell in the hands of Pharaoh's daughter who was bathing in the river. Moved with compassion when she discovered the child, she decided to adopt him. 
There are still many items needed on-board the unit. If you are interested in "stuffing the bus" CLICK HERE. 
For more information on the mobile medical unit, visit www.nlcloveslife.org or call 337-474-7003. Also: https://savethestorks.com/stork-bus/