Geri Christ Landry was named "Woman of the Year" by the National Catholic Daughters of the Americas at their National Convention held this past July in San Juan, Puerto Rico.  Mrs. Landry is a member of the Court Lady of the Lake #695 at the Cathedral of the Immaculate Conception in Lake Charles and has served in active ministry as a Catholic Daughter for more than 50 years.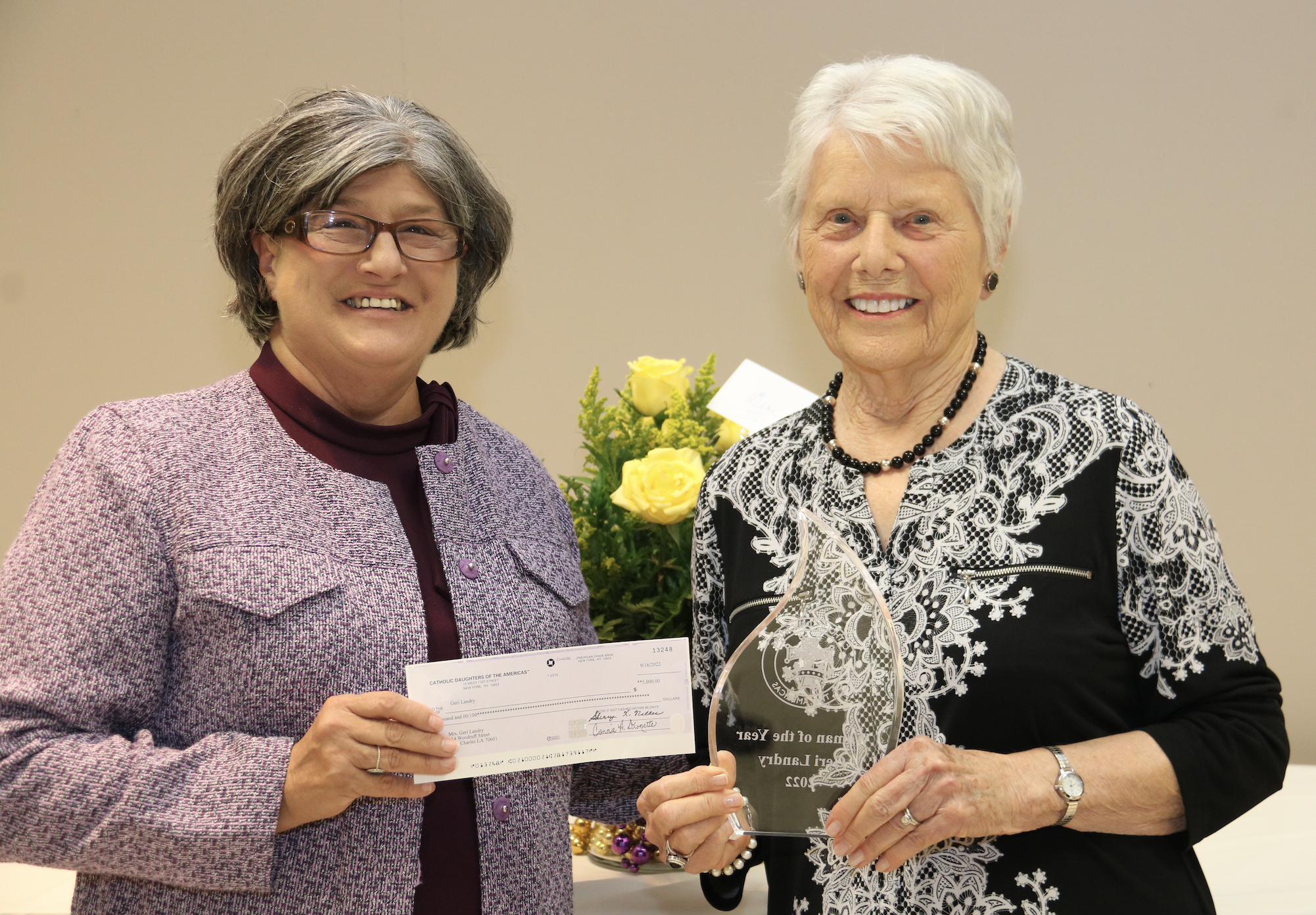 Connie Dronette, National Director for Catholic Daughters of the Americas, presented Mrs. Landry with her award and a check for $5,000 at the meeting for Court Lady of the Lake on September 19, 2022, in the Cathedral's Ave Maria Hall. In a spirit of true Christian generosity, Geri donated the money to the Lester and Geri Christ Landry Scholarship Fund (for special needs students) within the St. Louis Catholic High School Foundation.
Contributions she has made to her community are extensive. Geri Landry has a special love for children and adults on the autism spectrum as well as their families. As a teacher in the public school system, she taught special needs children. After retiring from her first career in education, she became a volunteer advocate for children on the spectrum in the school system, attending numerous IEP (Individualized Education Program) meetings with parents.  She helped to ensure that these children received education appropriate to their needs.  
Mrs. Landry was key to starting the Louisiana and Calcasieu chapters of the Autism Society of America, a national organization founded to increase public awareness about autism and the day-to-day issues faced by those with autism and their families. She served on the boards and as the Administrator for the Louisiana Chapter for many years.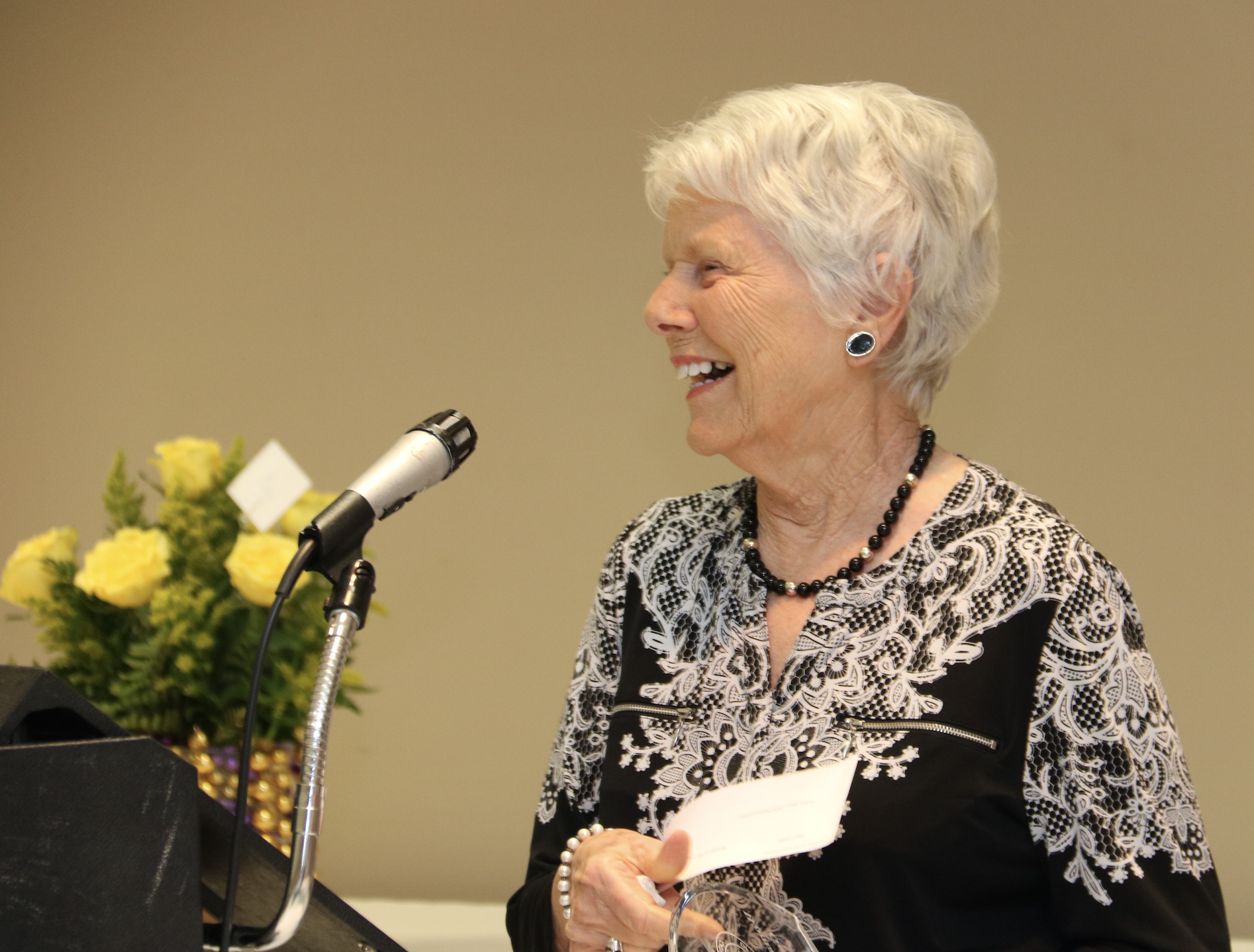 In addition to these significant contributions, Mrs. Landry has worked for more than 20 years to build an organization that provides homes and specialized care for adults with autism.  She is a founding member of the Board of Directors for Autism Services of Southwest Louisiana. 
Autism Services is a nonprofit organization whose mission is to build a culture that embraces adults on the autism spectrum, includes them in every facet of local daily life, and offers them opportunities to make meaningful contributions to our local and regional community.  The organization provides housing and support for adults with autism.
Under Mrs. Landry's leadership, Autism Services has opened five homes since it was founded in 2003.  All the homes are 100 percent owned by Autism Services, loan-free.  Twenty-four-hour care for the residents is provided by Personal Care Attendants who are specially trained to work with men and women on the autism spectrum.  Geri Landry served as President of the Board from 2003 until 2017.  She also served as the organization's first Executive Director.  During her term, the organization raised over one million dollars which was used to build one home and purchase the other three.  In addition, her efforts in fundraising have helped the organization to establish a foundation for future maintenance of the homes.
Through the years, Mrs. Landry has served the Catholic Daughters of the Americas in many capacities including Regent four times — twice for Court Our Lady of Fatima #1506, and twice for Court Our Lady of the Lake #695. She organized bake sales and other fundraisers, and she recruited many new members.
While her commitment and contributions are truly inspirational, her devotion to God and family epitomize the standard of a Catholic Daughter.  She is a loving wife, mother, sister and aunt.  She has two daughters, five grandchildren, two great-grandchildren, and numerous nieces and nephews who hold her as the standard for living out the Catholic faith.  At 91 years old, she continues to attend daily Mass, cook for her family on Sundays, and attend all family gatherings as well as serve the Catholic Daughters and the Autism community.