"We should be shining lamps, giving light to all around us." 
 —  Venerable Mother Catherine McAuley, Foundress of Religious Sisters of Mercy of Alma, Michigan in 1973 
By Pamela Seal 
Diocese of Lake Charles 
"I had a lot of animosity in my heart, but after I met the Sisters, they helped restore my faith," Theresa Richard said about her friendship with the Religious Sisters of Mercy of Alma, Michigan. "Now, when I walk in the neighborhood, if I see Sister Miriam, she will stop and listen. Everyone in the community loves them." 
Ms. Richard was among the dozens of guests who attended the open house on Saturday, September 24, at the Saint Martin de Porres Convent at 1414 Martha Street where the Religious Sisters of Mercy reside in the Diocese of Lake Charles.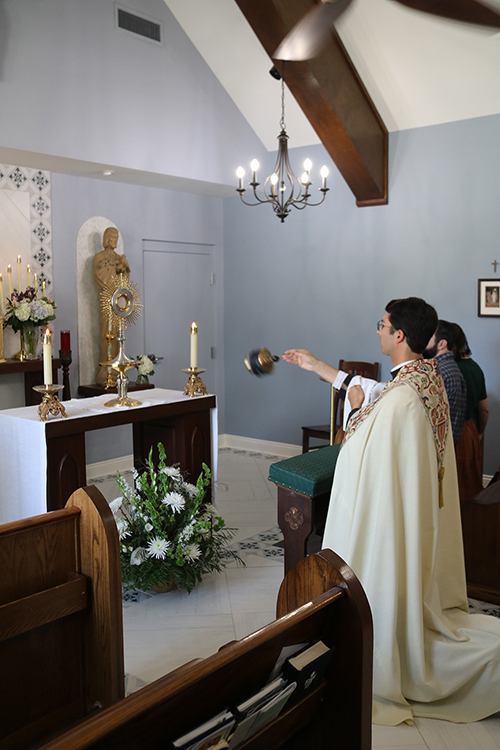 The Sisters opened their home between noon and 5:00 p.m. on the Titular Solemnity of the Blessed Virgin Mary, Mother of Mercy. The festive day began with the Exposition of the Blessed Sacrament as the Religious Sisters of Mercy filled the convent chapel with their angelic voices. Guests were invited to spend time in Adoration in half-hour increments, ending the day with a communal Holy Hour at 5:10 p.m. 
Mary, Mother of Mercy is the patroness and protectress of the Sisters' religious order, whose foundress is Venerable Mother Catherine McAuley. Religious Sisters of Mercy serving in the Diocese of Lake Charles are Sister Miriam MacLean, RSM; Sister Mary Benedicta Maier, RSM; Sister Maura Clare Mayock, RSM; and Sister Miriam Ruth Ryan, RSM. 
Ms. Richard is a member of Immaculate Heart of Mary Catholic Church just a few blocks from the convent. She met the Sisters through her friend Dave Dartez, a member of Greater Saint Mary Baptist Church. 
"Being in their presence has changed my whole lifestyle," said Dartez. He first met the Sisters through Catholic Charities of Southwest Louisiana where he has been volunteering since Hurricane Laura. "When I gave my life to the Lord, I am so at peace and am happy." 
Earlier in the day, The Most Reverend Glen John Provost, Bishop of Lake Charles, celebrated the Holy Sacrifice of the Mass for the Religious Sisters of Mercy at 9:00 a.m. followed by a Blessing of Saint Martin de Porres Convent and Saint Hubert and Our Lady of Ransom Buildings. The convent was the former Saint Hubert Catholic Church (1940-1974). 
There was a steady flow of guests — both young and young at heart — throughout the afternoon. While many enjoyed lunch inside, a few of the Religious Sisters cooled off from the summer-like temperatures outside in a friendly battle of water squirt wands with the children.
One of the vows the Sisters profess is poverty, but something they are never lacking in is joy and are eager to share it with everyone. 
"How can we not love them? Look what we see," said Ms. Richard as she glanced over at Sister Miriam overflowing with cheerfulness while she visited with a guest. "She's a beautiful person. She's got God with her; every word she says, you can feel it. She's truthful. She gives you hope. I didn't have no more hope." 
The Religious Sisters of Mercy are in the United States, Europe, and Australia. Their Motherhouse is in Alma, Michigan. For more information, visit https://www.rsmofalma.org
(Photography by: Morris LeBleu / Diocese of Lake Charles)