By Pamela Seal 
Diocese of Lake Charles  
Family lore has it that when Reverend Don Piraro's parents brought him home from the hospital, his Sicilian grandmother said, "This one will be a priest," as she held him for the first time. He was born in Lake Charles on July 30, 1941. 
Father Piraro, who served as the first director of Saint Charles Center in Moss Bluff, was honored for his 55th anniversary to the priesthood during a surprise presentation on October 11 at Villa Maria Retirement Center in Lake Charles where he has resided for the past six years. He was ordained on June 3, 1967. 
The Most Reverend Glen John Provost, Bishop of Lake Charles, celebrated the 16th annual Clergy and Religious Recognition Mass on September 14 at Camp Karol in Moss Bluff, however, Father Piraro was unable to attend.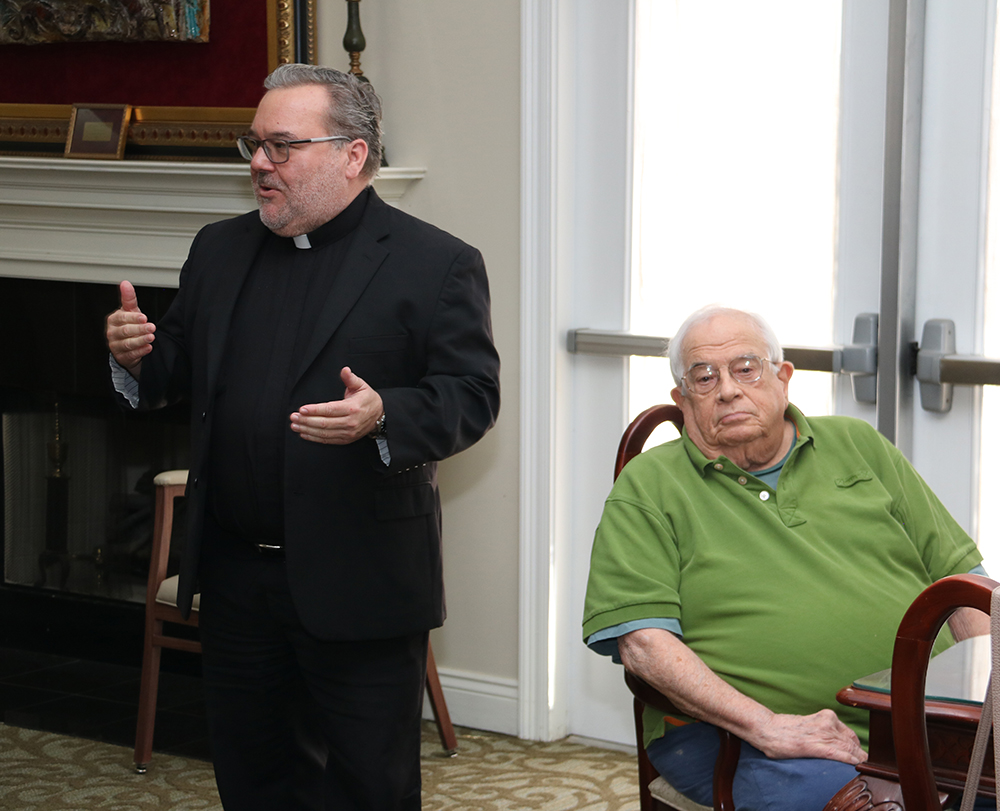 Father Piraro said his vocation was nurtured by the Christian Brothers at Landry Memorial and especially by his eighth-grade teacher, Brother Mel Herman Bach, whose class had nine boys enter Immaculata Seminary or the de la Salle Novitiate the next year. 
"Brother Herman proved invaluable in my discernment," said Father Piraro. "My advice to a young person discerning a vocation is to begin to meditate each day, to find a good spiritual director, and to attend a vocation retreat." 
The encouragement of others is also important. 
"I was supported in prayer by the people of my home parish, St. Hubert (now St. Theodore), and our pastor Monsignor Curtis Vidrine who preached at my first Mass twelve years later. But especially my parents were supportive and gave me the freedom to become what God's grace was shaping," Father Piraro recalled.
In remarks to those gathered, Monsignor Daniel A. Torres, Vicar General for Pastoral Ministry, said, "We give thanks to God for the gift of Father Piraro's life, his 55 years as a priest, and for his importance here at Villa Maria." 
Father Piraro, affectionately known as the Mayor of Villa Maria, quipped that his leadership in that regard is that he "just runs the meetings." 
"We are truly grateful for everything you have done for the Diocese of Lake Charles and for everything you have done for our spiritual journey," continued Monsignor Torres. "On behalf of all of us, we wanted to say thank you and we love you very much and pray that you may be blessed with many years of happiness and joy here at Villa Maria." 
Father Piraro served as a Priest for the Diocese of Lafayette from 1967 to 1980. He continued his priesthood for the Diocese of Lake Charles after it was formed in 1980. 
Church parishes where Father Piraro served include:  
In the Diocese of Lafayette — Church of the Assumption in Franklin; and Pastor of Our Lady of Wisdom Chapel and the Catholic Student Center at USL (now UL, Lafayette)

In the Diocese of Lake Charles — Saint Margaret of Scotland, Our Lady of Good Counsel, and Our Lady Queen of Heaven, all in Lake Charles; Saint Theodore in Moss Bluff; and Saint Pius X in Ragley. 
Among his crowning achievements is the major work that Father Piraro did for the Diocese of Lake Charles on the design, the financial drive, and the building of Saint Charles Center in Moss Bluff. He was named Director of the Center in 1993 and helped oversee construction of the buildings and its opening in November 1995. Upon his retirement in 2010, Father Piraro was named Director Emeritus. 
"When I returned to the Diocese of Lake Charles, Bishop (Jude) Speyrer looked me in the eyes and said, 'You know you are building the retreat house.' I began work on the project in 1982," Father Piraro recalled. 
Also notable is the work he did in the effort to establish Abraham's Tent and served as its General Chair from 1986 to 1995. 
A writer since his high school days, Father Piraro has kept a prayer journal since the age of 15. 
"As a retired priest, I continue this hobby by writing a monthly spiritual reflection," he said. "I am also an avid reader, write an occasional poem, do some sketching and listen to lots of Twentieth and Twenty-First Century classical music." 
Father Piraro has had several articles and poetry published. He was a columnist for the Franklin Banner-Tribune newspaper much of the time that he lived there and would later serve as monthly columnist for the Southwest Catholic, 1993-2005; and a contributing editor for The Priest, a national magazine for Catholic clergy, 2000-2004. 
In 2005, he was winner of the John XXIII Award from the National Organization for the Continuing Education of the Roman Catholic Clergy in 2005 for outstanding contribution to the field of the continuing education of priests. 
Working in adult education and spiritual formation of young adults and adults has been one of Father Piraro's greatest joys of the priesthood. 
"I have also enjoyed working with people in spiritual direction and in forming spiritual directors," he said, adding, "Another joy has been celebrating the sacraments, especially the Sacrament of Reconciliation, and preaching." 
He expressed his gratitude to the residents and staff at Villa Maria remarking that it has been a "sanctuary" in his retirement years. 
"I have survived and done well by being present here," said Father Piraro. "I thank all of you who are members of this community, because the community here is so rich and supported, and the primary reason why I chose Villa Maria." 
For a combined 570 years of service to the Catholic Church, this year's honorees included a total of 14 priests, 2 deacons, and 2 religious sisters. The following were recognized for significant anniversaries at the September Clergy and Religious Recognition Luncheon: 
55 years

— Rev. Don Piraro; Sister Camille Martinez, S.E.C.; and Sister Jeannette Touchet, S.E.C.

 

45 years

— Deacon Garrett Caraway and Deacon George Carr

 

40 years

— Very Rev. Aubrey Guilbeau

 

35 years

— Rev. Luke Krzanowski, M.S.; Rev. Monsignor Jace Eskind, Rev. Marian Susil Fernando, and Rev. Charles Okorougo

 

30 years

— Rev. Carlos Garcia and Canon Jean-Marie Moreau, Institute of Christ the King Sovereign Priest

 

25 years

— Rev. Alan Trouille and Rev. Brian King

 

20 years

— Rev. Clyde Thomas

 

10 years

— Rev. Stephen D.B. Thompson

 

5 years

— Rev. Trey Ange and Rev. Paul Jussen
On behalf of the
Serra
Club of Lake Charles, Denis Husers presented Father Piraro with a check for $550 ($10 for every year of his priesthood) and a keepsake program from the annual recognition event.
All honorees for 2022 received a check in $10 increments for their years of service. Supporting organizations helping to fund the monetary gifts of congratulations include the Knights of Columbus Assemblies and Councils; Knights of Peter Claver Assemblies, Chapter, and Courts; Catholic Daughters of the Americas Courts, Christian Mothers, parish Altar Societies, and the East Deanery Serra Club.