By Pamela Seal
Diocese of Lake Charles
"Faith in action is love and love in action is service."
— Saint Mother Teresa

 
The hands and feet of Jesus Christ were busy throughout the Diocese of Lake Charles and local community recently with the help of more than 260 students from St. Louis Catholic High School. 
Groups of freshmen and seniors spent the morning of October 12 at more than 15 sites with projects that ranged from baking cookies and making Christmas cards at the Religious Sisters of Mercy Convent, creating a rosary prayer garden at Immaculate Heart of Mary Catholic Church, bagging groceries at Catholic Charities of Southwest Louisiana, cleaning windows at Saint Charles Center and Camp Karol, prepping vegetables and meals at Abraham's Tent, and making rosaries for pro-life ministries. 
Henry Gil, a senior who is no stranger to volunteering, put his landscaping skills to use. He was among 20 seniors who spruced up the gardens around Our Lady of Prompt Succor Catholic Church in Sulphur. 
"We were able to remove limbs from the prayer garden and trimmed trees to make it look a little nicer," said Gil. He has been volunteering since before he was a freshman but admits he was "iffy" about it at first. 
"Working with disabled children helped me realize that it feels good to help people; it feels good to be there for someone, for the community," he said. 
The Service Day, between 8:30 a.m. and 11:30 a.m., took place while sophomores and juniors took PSAT tests. It was a way for upper and lower-level classes to make a positive impact in their local and church communities.  
Not only did a group of 25 freshmen learn how to make rosaries for use with pro-life ministries such as Rachel's Vineyard, Grief to Grace, and the Gabriel Project, but they also spiritually adopted an unborn child. Elizabeth Austin named her "baby" Clara Jane. 
"We were asked to pray a nine-month novena, and we each chose a date that we 'conceived' the baby," said Austin. "I chose October 14. I love kids a lot. We made rosaries and crucifix earrings with encouraging notes for people who have had an abortion and later regretted their decision."
Paul Adams said he had never heard of the Gabriel Project or Rachel's Vineyard. 
"I thought women just had abortions and no place to go afterward for help," Adams remarked. "I enjoyed helping today and being able to make a difference in someone's life." 
The students were also given a mason jar to fill over time with extra money to donate for the Grief to Grace retreats since many people can't afford to attend. 
Holley Fontenot, St. Louis High teacher, coach, and site coordinator for the Service Day, said her hope is that students find joy and fulfillment in participating in service with their peers and teachers. 
"I think there is great value in group service like this where students serve their community as a community, all united in a common purpose to be the hands and feet of Christ," said Fontenot.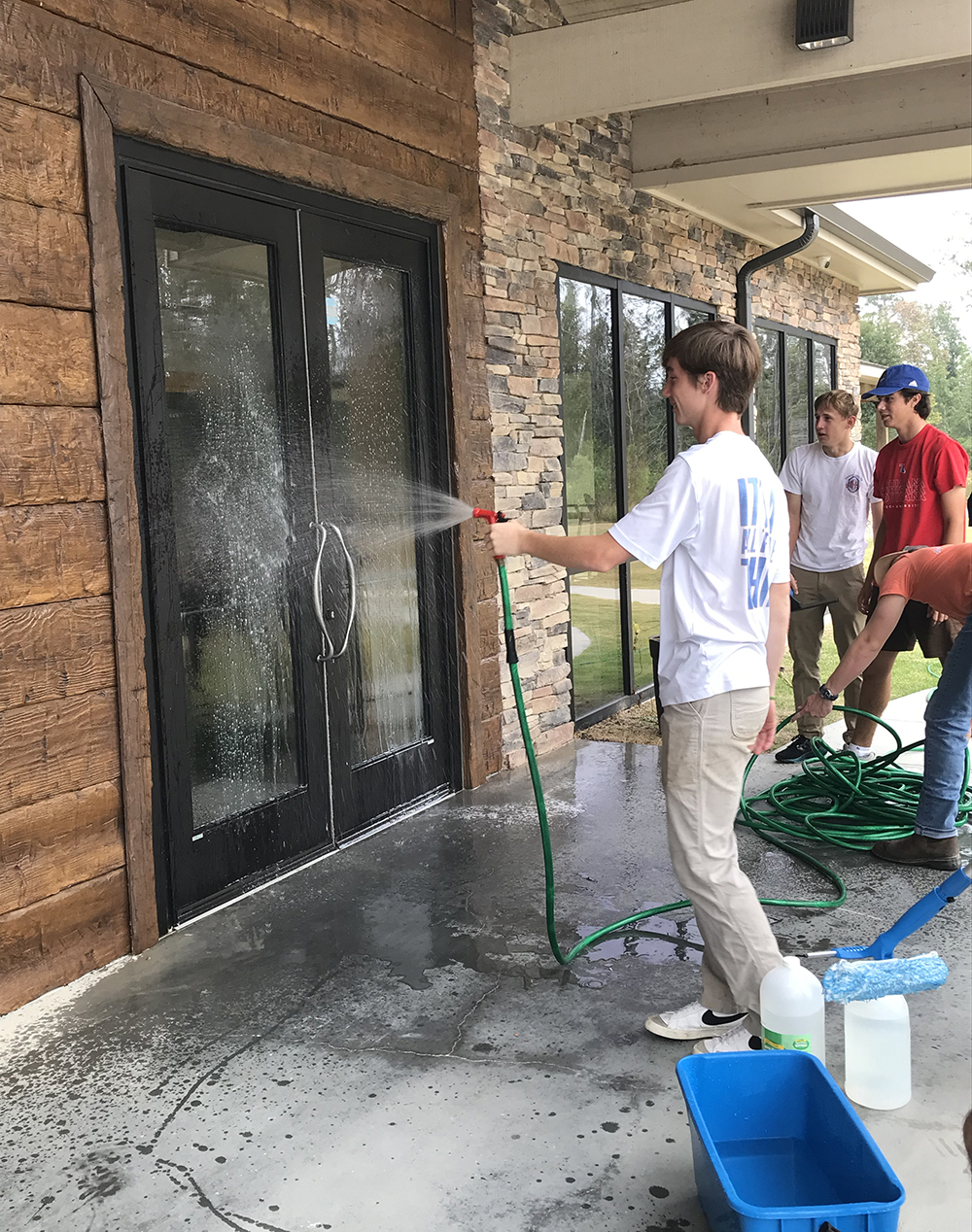 Sprucing up at St. Joseph Catholic Church in Vinton was a chance for 20 seniors to bond as they cleaned windows, tables, and more than 200 chairs in the fellowship hall. 
"It is fun when we are doing the service hours together and making friends along the way," said Norma Dedear. "Being involved in service reminds us that it is important to give back to our community," adding that she enjoys volunteering at middle school summer camps and at Abraham's Tent.
Seniors William Bright and Thomas Alley signed up to help at Hobo Hotel for Cats since they both like animals. Bright is the owner of three dogs, and Alley has two dogs himself. 
"I had never been to Hobo Hotel before, so it was cool being able to provide a service for the pets," said Bright. "We cleaned up areas at the shelter where the cats stay and their litter boxes."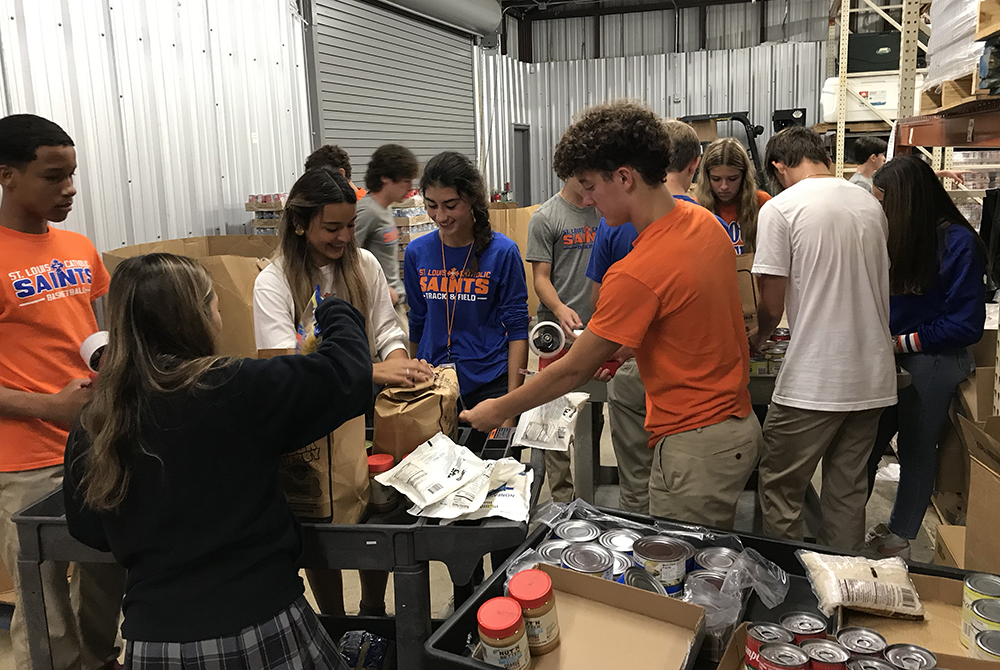 Alley said he enjoyed giving back to a non-profit organization like Hobo Hotel. When he is doing service hours on his own, he said he enjoys doing manual labor like moving things for people and mowing lawns. 
Aden Hayes was among the seniors who did yard work at Our Lady of Prompt Succor Catholic Church. He said that he enjoyed working with friends but is looking ahead to racking up more service hours on his own. 
"I'll probably volunteer at Abraham's Tent. I like going there to help out," said Hayes. "I also enjoy writing letters to veterans and children at orphanages. It's a lot more personable." 
The service hours, both in group settings and as individuals, allow the students to live out the Gospel they study in Theology. 
Other Service Day sites included: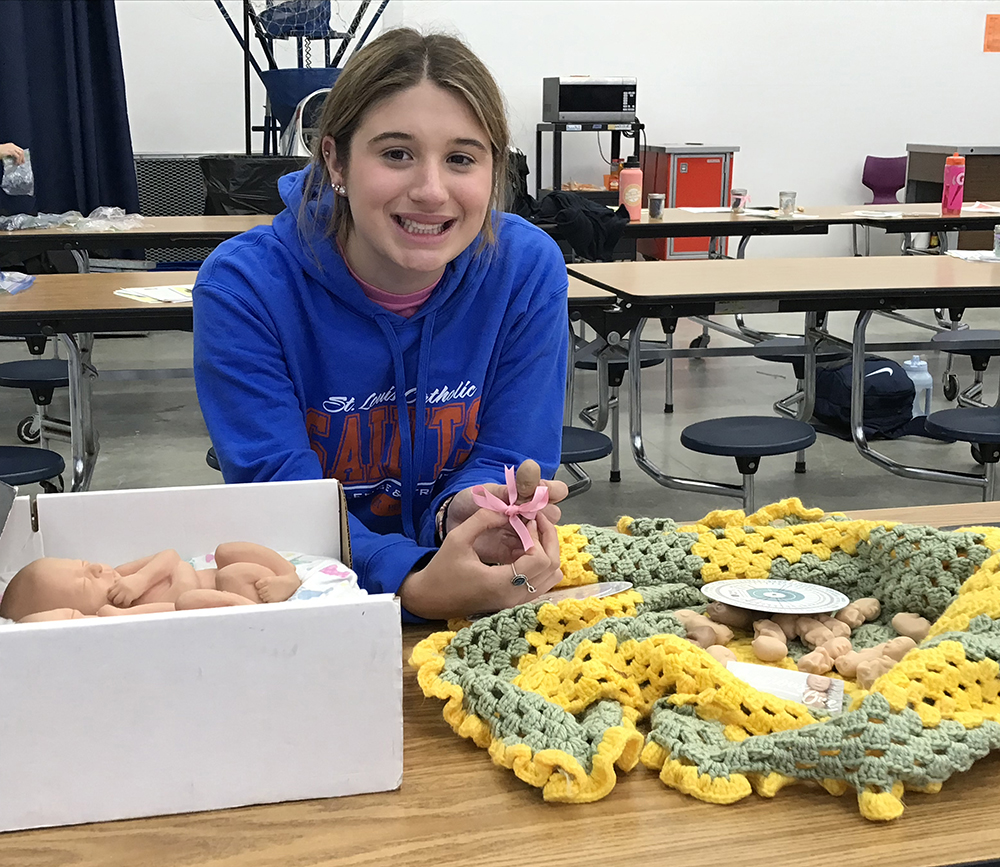 • Cleaning up around the Grotto at the Cathedral of the Immaculate Conception 
• Picking up trash and debris, and cleaning up around gravesites at Consolata Cemetery in Lake Charles 
• Cleaned up gravesites and did some landscaping at Mimosa Pines Cemetery in Sulphur 
• Pulled weeds and trimmed trees at Old Catholic Cemetery in downtown Lake Charles 
• Washed windows and cleaned up the grounds at St. Theodore Catholic Church in Moss Bluff 
• Organized books in Landry Library at St. Louis Catholic High School 

Many students told Fontenot that they enjoyed the Service Day. 
"I heard from students that they appreciated being able to choose their service site, and they enjoyed doing community service with their friends," Fontenot said. "One student remarked that he really enjoyed doing yard work with his coach. It meant a lot to him that the adults were serving alongside the students." 
Fontenot said she hopes that the exposure to so many Diocesan groups and ministries will help the students understand what it means to care for life at every stage.